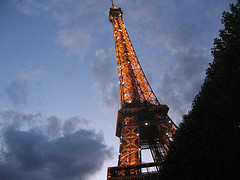 :: 2011 24 January :: 9.01pm


I keep getting asked what married life is like or how married life is going as if I underwent some magical transformation at 5pm on October 23 and I woke up as a new species, a new life form, on October 24: Wife.

My response is always: it's exactly the same, nothing has changed.

And in a way, that's true. But really I only respond that way because I don't know how else to answer and I don't think people are really expecting an answer beyond "fantastic" or "wonderful." So I answer the same way every time I'm asked.

It's exactly the same. Nothing's changed.

And really, the day to day stuff has not changed at all. That comes with territory though and has nothing to do with marriage or our marriage. When you date someone for 6.5 years and live with them for 3.5, there's not much that changes once you put a title on the relationship.

However I'm still lying when I say nothing has changed. I have changed. Nick has changed. My name has changed.


My name has changed. I didn't think this would be such a big deal to me and I still don't feel it is that much of a big to-do but I do feel the change intimately. I never was really in the feminist/non-name changing camp as I always felt that changing your name was a part of the marriage just like middle school follows elementary school. It is what you do. So I did it because that's what you do. And despite changing my name on Facebook almost immediately (peer pressure is a thing, children) I procrastinated and didn't process the legal name change until January. And now this is who I am. I am not a Greggs, I am a Hazen. My voicemail still says Greggs, at work I am still Greggs but in the eyes of the government of the United States of America and the state of Michigan, I am a Hazen. Who I am as a person and who I identify myself as has changed.

I always thought names were strange. Nick's name isn't Nick, it's Nicholas but to everyone and to himself, he is Nick. Oliver and I were talking about this the other day in relation to celebrities. He was wondering if celebrities' spouses call them their birth name or their stage name. He used Fergie as an example. Is she Fergie at home? To her husband? To her friends? Is she Fergie to her parents?

Now I'm not the person I was for 23 years of my life. I'm someone new, someone different, someone married. I have to learn to respond to a new name, a new title. I'm a wife, I'm married, I'm a Hazen, I'm a Mrs. It's all so very strange that I don't know how I'll get used to it. I'm sure that 23 years from now, I won't be able to imagine it being any different.


I always knew that Nick and I were together for the long haul and we were in this forever, even before we got married. We were good kids and we talked about marriage for quite some time. We talked about getting married like it was some great accomplishment far off and far away from us. Being married was something that happened to other people. We would get there someday but it wasn't today and it wasn't tomorrow. Then suddenly it was tomorrow and then just as suddenly it was today. And then just as quickly it was yesterday and a month ago and two months ago and yesterday it was three months ago and I didn't even notice. We passed this great threshold, this life defining moment, this milestone, this sacrament and it was just a day. Now we're here and it's exactly the same.

But it's not.

I don't know how to describe this feeling to people who aren't married and that's why I haven't been trying. I'm married. I have someone who will always have my back. I have someone who is always on my mind, who is the most important person in my life and someone who is my best friend. All these things were true even before we signed a piece of paper and said those vows but now it's different. Now I have someone with me for the rest of my life. I have someone who will always be there and someone I know I can always turn to for help. I have someone who I can call my husband. I have someone I'm legally bound to and who is bound to me. I have someone who loved me enough to spend all that money on one day to celebrate being us. Together. Finally.

I am married to a wonderful man and someday I will be married to and will have been with Nick for longer than I've been without him (June 13, 2021 to be exact). We will be with each other for the rest of our lives. It's an amazing feeling that didn't really hit me until our "staycation" honeymoon when I cried that afternoon in our hotel room, holding on to my new life. I was a wife celebrating her marriage to her husband and the overwhelming non-change change just threw me. It still hits me hard sometimes and it always surprises me the most when people ask me how married life is. It's not exactly the same but I can't very well tell this story can I?

I also am now deeply affected by any sad/happy stories about married couples. Whether reading a story about the death of a spouse or a child or just thinking about how hard it must have been for immigrants to leave their families behind, I get upset. Thinking about how my great-great great granduncle (or whatever he was) left his wife and traveled on the world's largest unsinkable ship to America, I get teary. I know how Fahim Leeni must have felt when he left his wife of four month for something better. I know how people feel when they are separated from their spouses. I know this because I know this feeling, I know how people feel when they are together.

How's married life?

It's about the same.