| | |
| --- | --- |
| | love is undefined. |
---
:: 2008 13 May :: 12.45 pm

1. Dog died on Wednesday. It's been a week, and I still feel like she should be there. We only had her for 6-7 months. She was an old, poor soul who was abandoned on the streets. She had bad arthritis and was completely deaf. We tried so hard to find her home, but failed. So we tried to love her as much as we could, and put up with her incontinence and accidents so she could love the rest of her life loved.

2. I miss having a computer working at home. Argh.

3. I'm tutoring tonight instead of tomorrow. The kid got another F on a test. How is he going to pass math? Graduation is only a month away. Ughhh. If he doesn't graduate, it's going to be my fault.

4. My dogs aren't crazy. They're a little energetic and noisy, but they're not crazy or untrainable or too wild. Since Dog passed away, they've been able to have "free run" a little bit more and been able to respond to a dozen cats, guinea pigs, snakes, and dragons. They've been doing really well.
---
:: 2008 5 May :: 4.14 pm

Computer Woes
Tried to hook up my desktop computer. Monitor won't pick up a signal even though I know the computer's working. Don't know where the problem is because we didn't try hooking either up to something else.

I need to figure out if it'll be better to get my old laptop fixed or just replace it (with the same model) from ebay. It might be old, but it was love at first sight and I miss it. My hard drive took a nose dive, so I replaced it- and now the CD drive won't work. Yeahhh. Not to mention the case is cracked a bit and there's a key missing. :) Replacement CD drive on ebay is $129.

Of course, I can just buy the power cord for my Acer laptop on ebay and call it a day. But I told DH that I'd let him use that more if I got my old one working again.


I'm on the search for my install discs for Galactic Battlegrounds. And maybe Starcraft. I want to play against DH.. <3
---
:: 2008 11 April :: 3.11 pm

Work has been especially boring this week. This means that next week is sure to be crazy busy. I'd rather be busy than have nothing to do.


I really miss the person I used to be.


I miss nerdy things like online roleplaying and IRC and web design. I miss being a nerd. I miss visiting museums and getting turned on by engineering talk. (Yeah, I'm sure that makes me officially weird, but oh well.)

My husband isn't nerdy, doesn't have a high IQ, and can't meet my needs for these things. He's a good guy who loves me more than the world, and I love him. I'm glad to spend the rest of my life with him, I just need to re-establish an outlet for me to get my geek fix. Seriously. :\

(In comparison, I'm not as redneck or as into cars or rc's or paintball like he is. And I encourage him to spend time with friends who share those interests.)
---
:: 2008 26 January :: 7.28 pm

New Camera + Duncan
I got a new camera yesterday. Not quite as awesome as a DSLR would have been, but a few hundred dollars cheaper than the DSLR models I want.

Meet Duncan:


---
:: 2008 23 January :: 12.12 pm

Moving?
We're considering moving to Alaska.

Do only crazy people move to Alaska? Especially from Southern California?


Photos of my trip in '04:

Big Game Alaska Wildlife Sanctuary

Beach Excursion

Glacier Cruise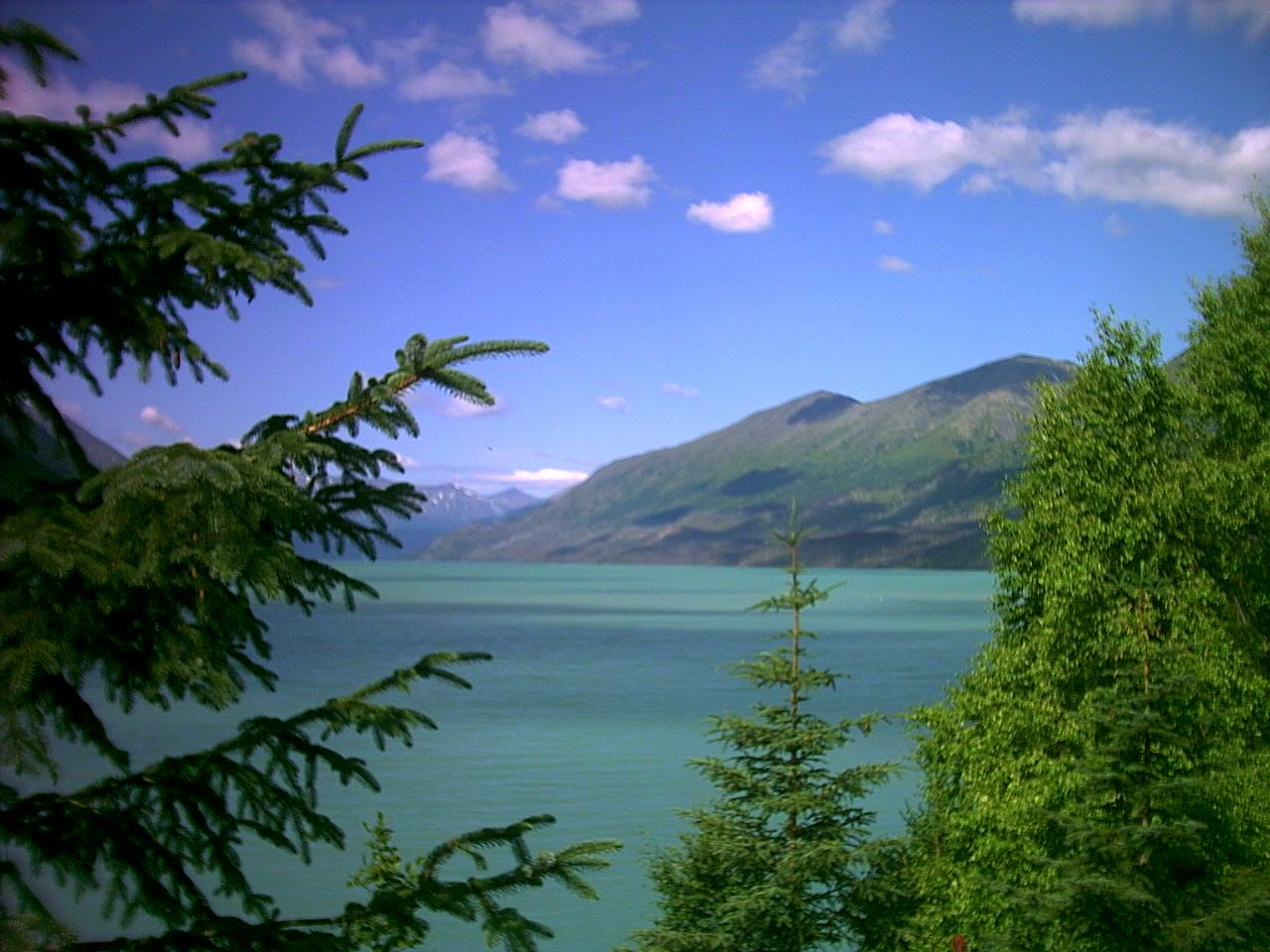 ---
:: 2008 15 January :: 12.47 pm

The tamales turned out great. The chicken ones were by far, the best. Cheese & Jalapeno came in second, followed by chicken & cheese, pork, and beef. The beef were just too spicy for me, but my boss loved them. It took four days to cook all of the tamales, and they never all got eaten. I threw away at least three dozen because I'm not good about wrapping & freezing things. Ugh. I am so bad about wasting food. I also threw away a dozen cinnamon rolls, 6 delish biscuits, and some Christmas cookies. I baked a huge cake and then let it sit there for five days before deciding to take it to my parents since we were never going to eat the darn thing. So yes. We are huge food wasters.

I'm going to make chocolate-cherry muffins. I'm taking half the batch to the neighbors, I think. (Or I could just make half a batch, but where would the fun be in that?)

I act like I still live at home. Cooking for 6 and baking for huge drunken partygoers.

We scrubbed the house on Saturday (in-between cat adoptions & my husband's party). I re-arranged the dining room for the sixth time since we moved in. I've been meaning to play Wii since Friday and it just hasn't happened.

I want to do more things than I have time to do like starting new meetup groups and volunteering at the animal shelter and re-learning how to ride my bike and networking with other fosters on community-based websites to showcase all of our fosters to encourage other people on the community to adopt someone.

I've wanted to create more of an anon-presence online. But I've never been good about being anonymous.

I want my blog entries to mean something, again.

I need to find a new host. My scum-of-the-earth hosts finally "cancelled" my paypal subscription. I'm so fed up with them and extra hesitant to trust any host, especially one I pay for. I've been doing my research on new hosts but nobody really stands out to me.
---
:: 2007 27 December :: 11.10 am

Food
This weekend, I plan on trying my hand at pork tamales & chicken tamales. This means we'll venture into Mexican grocery stores for the first time in years. Mexican (and Asian) grocery stores have many advantages to your traditional stores. You can buy lots of things much, much cheaper. Produce is way cheaper. Meat is cheaper. Mexican sweet breads are fresher. Spices are sold in bulk, not in little McCormick jars so you save a ton of money. Dried beans and chiles are cheaper. Rice is cheaper. You can buy lots of cultural foods/ingredients that you'd pay 5x as much for at your regular grocery store.

After having BBQ 3x last week (2x from Joey's & once from Lucille's), I'm inspired to make my own again. The second time from Joey's, the sauce was too mustard-y. Trev didn't pick up on it, but it was there.

So a major Resolution for next year is to be more organized when it comes to food. I have to start packing lunch for Trev again. I can eat warmed up leftovers at work, but since he's in the field- he needs a cold lunch. I want to meal-plan (I always fail at this) and make actual grocery lists, not run to the grocery store every other day or three times in a day. I want to use our kitchen gadgets more often (KitchenAid, rice cooker, crock pot, chopper thing). I want to stop turning on the wrong burner for the stove when I go to cook. (I hate electric stoves.) I want to use more beans (high in protein) and learn to cook dried beans. I want to hide more veggies in our food!

I also want to figure out how to store food better.

My SIL and nephew live with us. They have the bottom shelf and most of the door in the fridge, half the freezer, and a shelf in the cupboard. That's not really conducive to organization, unfortunately.

I'd also like to help teach my nephew and the neighbor kids about the food pyramid and eating balanced meals, etc. Speaking of the neighbor kids, they begged us to never move away. Aww. :)
---
:: 2007 26 December :: 11.27 am

Whoa. Thanks to my "past entries," I've re-discovered 1up.com and my "secret lj". Ha.

I also realized I used to be excited about the holidays.

This year was the first year I ever had a real tree. We hung cat toys from it, but the cats weren't nearly as interested as I'd expected them to be.

I baked hundreds and hundreds of cookies this year. I distributed huge platters to our three neighbors across the street. They returned the favor with:
1 store-bought fruitcake
1/2 homemade fruitcake w/ walnuts & chocolate chips
7 hot homemade tamales (YUM!)

& the lady who has a big house and lives alone gathered up all her family & friends and they came caroling on Christmas Eve. I've never had carolers come a-caroling before. It was awesome.

We had dinner at my mom's house (geeze, more tantrums) and then crashed a later dinner at Trev's old friend's house. We laughed a lot and played wii.

The neighbor kids gave us a hand-decorated cookie jar that looks like a gingerbread house. It's way cute and thoughtful. The kids are really spoiled, but you wouldn't know it when they're at my house.

I'm going to try my hand at making tamales next weekend. I found a great recipe on recipezaar.
---
:: 2007 18 January :: 1.53 pm

Whoa,

I had emails from the author of this book in my inbox today. I met him two years ago and loved him then, but now he's one of the people I'll regularly get to work with thanks to my newsletter editor position.


I came in to work around 1:15 today. I'll probably work 3-4 hours and go home? The husband went over to K's house for a bit and we might go back there with dinner later tonight.
---
:: 2007 17 January :: 2.02 pm

Two hours left of work for the day, if I'm lucky.

Zeus didn't get neutered today, he was sick.

The husband's sick, too. Think he has the flu- which he hasn't had in five or six years. I have some sort of a bug, but can't decide between flu/cold/pneumonia. Ha. I don't have a fever at all, in fact- my temperature is below my normal temperature. My "asthma" didn't start acting up again 'til I got sick, which is a sign of pneumonia (plus, K has some form of it and we just were spending time with her a few days ago). We're both sticking to the day at work, but he won't make it in tomorrow, and I might only come in for the afternoon. I was hoping not to get sick until the weekend.

I've spent most of the day online- doing nothing. It's not the kind of day I like to have at work, unfortunately.
---
:: 2007 16 January :: 2.46 pm

2007.
As it turns out, after more than one year without updates, I do have a journal here, after all.

Of course, I find this out after purchasing an invite code. <3

I had to.

No matter how wonderful my life can turn out, or how much a year can change a person- I'm still stuck in the past. And so of course I remember all the internet drama of 2000. I remember the unforgettable friends (frenemies?) I made via a chat room that closed its' doors years ago. It's Woohu, himself, who draws me to this website.

I should begin where I left off, but I didn't really leave off anywhere. Hung up on some dumb boy. I'm proud to say I finally had the courage to end things with him last spring.

I married a wonderful man on December 31. No, I am not pregnant. Nor did either of us think I was when we got married. We got married for various reasons, but we're wonderful together.

I bought a car in November. A 2002 Hyundai Sonata LX w/ a V6, leather seats, power sunroof, etc. It's nice.

I went through two jobs in 2006. (Three, technically, because I didn't quit my job with the school district 'til mid-January, but I didn't work in 06 for them.) I'm currently six months into my second job, and have already received a 10% raise. The husband works here, too. He just got a whoppin' 25% raise (but I make more).

I still have the cockatiels- two have paired off and are always romancing (or humping) each other. We might wind up with babies (oh, boy) this spring. The other male/female are now in a seperate cage, since the male who was getting some started to attack the older male. Hmph. Boys have issues.

We have three dogs. Zeus was a stray we took in, whom was almost killed by my mother's english mastiff, but survived after $500+ in emergency vet bills and 23 stitches. Ashe (the "family" dog) has become mine, and Zena is still my number one (she even got to be at my wedding).

The cat total went up and went down. In late 05, the kittens finally became mine. However, in February 06, Charcoal had to be put down. Trevor and I rescued two black kittens last summer, both survived their near death experiences, and are now happy, though small, creatures that own my sister. On Thanksgiving, we wound up picking up another stray. She spent the night with us outside Circuit City, then went to bed with us at 6am. She adapted to the dogs at first sight, and is the silliest cat you could imagine. She's a Japanese Bobtail mix.

We're saving money to put a down payment on a house in 3-5 years. Our goal is to have $30-50k to put down. Hmph. Ambitious, yes? Trevor hopes to get a job with the police department, or maybe get his Class "A" license and be a truck driver. I still don't know what I want to do, though I'm good at what I do now.

Zeus is getting neutered tomorrow. We're hoping it'll calm him down, some, since he's sort of hyperactive.

We bought a 53" widescreen HDTV for $600. I thought it was dumb, yet I enjoy it.

I was named editor of an atheist newsletter, starting the Feb. 2007 issue. I'm excited. The board has yet to officially approve me, so after the February issue- I could be kicked off. Because of this, I bought a new hard drive for my laptop (should arrive tomorrow afternoon) and a new stylus for the tablet- since I've lost the one it came with. I'm hoping the only problem with it is the hard drive. I don't want to deal with a defective motherboard.

I saw snow for the first time in 2006. March 12. It was gorgeous, albeit wet and cold. I've driven up to the snow three times this fall/winter, and snow got so low last Friday that it snowed about 40 miles from my house. (My office is 19 miles, and we got hailed on good- everything was white, and people called it snow, though it was just ice! The employees still had a 7am "snow"ball fight!) 15 miles east of my office, a security guard at the electric company reported that it hadn't stopped snowing "all day" at 2:30pm. I do enjoy the colder weather this year, because we're not getting a ton of rain. I think the rainy season will hit in February/March.


Oh. I saw Wysteria Lane. <3
---
:: 2005 7 December :: 4.25 pm

I'm half in love with someone who barely acknowledges my existence.


Which is hilarious 'cause too many men could say that about me. I guess what goes around comes around. It's not like this is a new story.


I can barely tolerate my headaches and tense-ness, though.
---
:: 2005 5 November :: 9.26 pm
:: Music: Baba Yetu; Christopher Tin [Civilization IV].
life.
I was asked post so that everyone knows I'm still alive.


Who has cingular? 'cause I'm going to turn into a bigger phone person than I am and make use of free calls with people in-network. So far this includes my grandma, my soul mate, the boy I'm crazy about, one of the nicest friends in my life, a boy who's crazy about me, etc.


I got a new phone. the Motorola ROKR. hurrah. I'm lovin' it. Not so much of an iTunes person. and iTunes is not as easy as apple's shit usually is, so I guess it's a step up.


I watched America's Next Top Model last week, where they imitated 40s pin up girls. hot stuff, I tell you. and that's the kind of stuff I'm so natural with. I just need to lose more weight and have a more clear complexion before I could model. ha.


One of the guys I dated is getting rave reviews with his music. It makes me smile. I put some of his stuff in my phone. I threw in an Adema song 'cause I love Mikey, and a Strung Out song 'cause I met Jay. Blink 'cause it's so old-school bad-ass. Can you believe Travis with his "we're over" statement. You've been living on the moon if you weren't aware of Blink's status. But maybe people just aren't in on the know. it's weird being friends of friends of people in the entertainment industry. it's usually a bunch of bullshit that doesn't matter. rarely it's anything more.


there are 100 songs on my cell phone and I'm in love. it's almost an unnatural love. tomorrow morning I'm cleaning house. Monday, after Brandon's student of the month assembly and a bunch of work, my grandma is taking me to dinner so we can talk. I love my relatives and wish I spent more time with them. I'm going to call my step-grandmother about making thanksgiving plans with her.


Geeze, I'm listening to some of the music from Civilization IV. I'm really impressed. any of you guys played the game? I know it was highly anticipated and has received rave reviews. I'm always extremely impressed with this guy's music, though. I won't buy the game but this music is goodddd.

and you can bet that on Monday at work, I'll be making everyone listen to it. <3
---
:: 2005 1 July :: 4.24 pm
:: Mood: excited

I've got sunshine..
I have a job interview tomorrow. It will be my first job interview, ever. (I always get offered jobs without needing all of the preliminary applications/interviews. But not this summer!)

It's at Circuit City. I'm not even a very big fan of Circuit City. But it'll do. I filled out my application around 10 AM today, and had a phone call at 3:30pm for an interview tomorrow at 1pm.

I was planning on taking the cats (Mordred/Gwen/Tinker and Gertrude) to Cats In Need, but am really unsure if I will. I'll play things by ear after the interview. I have a date tomorrow afternoon. And I'm excited about that.

I turned down a free trip to Alaska this summer because I knew I needed to find a job so I can pay bills (car insurance, gas, food, cell phone). My car also desperately needs an oil change. I'm five hundred miles over (how did that happen?!). I need to clean out my car and wash it on Saturday morning. Do laundry tonight.

I've had a tumultous summer, already. Dead foster kitties. Bad veterinarians. Etc. Got my website online, but don't even update the blog like I should - nor have I gotten my ass on getting the NAV links working. geeeze.


I'm only posting here because somebody oh so nicely suggested I should.


I'm absolutely thrilled that one of the guys I'm dating makes me laugh and smile a lot. It's super rare. (Okay, don't get too comfortable with that, 'cause it won't last and there's no strings!)

Hope everyone else is doing well. <33
---
:: 2005 5 June :: 7.45 am
:: Mood: Sleepy.


It's undeniable, that we should be together..
I was informed that I fail to update my woohu journal often enough.


.... I'm sorry



Right now, I'm in a major transitional stage. I'm going to switch colleges, probably go back to community college (Cal-Poly is NOT cutting it, with the schedule of classes, drama in the CEIS dept., and a lack of ECE). I want to double major in education and early childhood education. I can do that (even at Mt. Sac!). I can pick up an Associate's degree in ECE and then transfer (maybe back to Cal-Poly, even). But at least I'll have some units in ECE - which makes my d r e a m of running my own daycare, someday, all the more likely to come true.

I might move to New Jersey, though. My friends wonder why the hell I'd go to Jersey. Two of the four people who matter the most to me in my life LOVE the idea, so I'm inclined to give it a try. It's just huge. And I think I'd prefer to rent a house with my friends, and stay local. I know change is good, but I'm hesitant. And I'll miss my friends something awful.

Axel and I picked up two more birds in Northridge. Paris and Pericles. They are super cute.

My hosting company decided to go out of business without notifying their customers. The man who originally owned the company (and sold it) has now made it his personal mission to help all of the customers who were royally screwed by AMZ WEB. I need to find out what's going on with that.

I'm fostering seven cats right now. Tinkerbell came along first (May 16th), and then Guenevere and Morgan showed up the next day when I went to clean cages for Cats In Need. Drama ensued. Things are okay, now. My father is in love with Morgan. Then on Wednesday morning, Sammy showed up to our house bleeding. He's a stray. $125 in vet bills later (ohyeah, but the vet gave us a steal of a deal) - and a $38 neuter behind him.. he's on antibiotics for another two weeks. He was mauled by a dog, and it got infected badly. Yesterday, I was at Cats In Need to sign a foster contract for Sammy, and I was told that three kittens were dumped. They bought a cage, a litter box, some food, and some litter - and home they came! Seven cats are caged (we have six of our own). They all get let out to play several times a day. And they're healthy/happy. I'm working on these new three - Artemis (twice the size of the other two), Athena, and Aphrodite. aw. <3

Finals are this week. I only care about one class. The other two - fuck it. Honest. I'm leaving Cal-Poly and they're non-transferable, anyway. I'll make up for it somewhere else. I will finish college. Whether it's in California or New Jersey. I might take a year off. I need a full time job.

I made the front page of The Poly Post this past week. I got married. To a beautiful girl. (Marriage Equality day co-sponsored by NOW and TRES.)