| | |
| --- | --- |
| | Your hate for me is divine. <3 |
---
:: 2007 10 October :: 7.31 pm
:: Mood: happy
:: Music: Nothing Left// Machine Head
8)
OH GOD THIS IS SO FUN
KITSUNE DO THIS
AND ANYONE ELSE (whos has their own character of course!)
THERE GOES MY HOMEWORK
(you can print it out then scan it afterwards 8D)

http://twelfth.deviantart.com/art/ROCKIN-66994184?offset=20#comments
---
:: 2007 3 October :: 8.14 pm
:: Mood: excited

GUYS
KITU AND I HAVE A PLAN
TO SHOW HOW MUCH WE APPRECIATE ANDY
WE SHALL MAKE HIM A CARD.
or several cards and stick them all together
because without him we wouldn't know each other anymore.

SOUND GOOD?
---
:: 2007 28 September :: 11.01 pm
:: Mood: irate
:: Music: Devil With The King's Card// Machine Head
eh..
:/
/:
:|

Read more..

..help with bg pls.

oh and amuse yourself with some of the random pictures i have collected over the years. 8D
Read more..
---
:: 2007 23 September :: 2.15 am
:: Mood: crushed
:: Music: Love Psalm// Silent Hill 2 ost
art
Edit: thur we go. toned down the icky textures. 8D


ok so im BURNING WITH JEALOUSY because a very talented friend of mine is being comissioned to draw. that is my dream. why havent i accomplished this, you ask? well because im a perfectionist who lacks self-confidence. what a horrible mess. so yea, i'm striving to be able to do the same as she is now and have people pay me to draw for them by then end of 2007. HOPEFULLY this will happen. my photoshop teacher said the earlier the better, well i'll do my best. :/

here's something im working on. tch, this would be nothing without the damn textures..
(under cut cause it might stretch your pages)
Read more..

:/ hmm. i feel like i'm cheating because of the textures..i just LOVE the use of textures, specially skin types. asadffs what do you think? is it cheating? is it me being lazy? >:
---
:: 2007 22 September :: 12.21 am

oh gosh. a rant
WELL BOYS AND GIRLS
i saw resident evil: exintion.
all i can say that it was hot. alice was hot. olivera was hot. redfield, im sad to say, was hot. zombies were hot. not so much wesker but eh, maybe he'll grow hair by the next movie.

oh uh.. spoilers?
Read more..

on another note: im thinking of cutting my hair uber short again, but thats prolly because i'm having milla-fever again. @_@ pheww
---
:: 2007 20 September :: 11.31 pm

@_@
LEOPARD THONGS.
---
:: 2007 11 September :: 7.20 pm
:: Mood: happy
:: Music: When God Was Sober// Terror Syndrome (can't stop listening to it <3)
dilema, dilema, dilema





blue virgil notebook or red dante notebook? what a problem i am faced with. :D

..this isnt for sure but my mom's actually looking into it. ;_;

on another note, please someone, tell my mother to stop bringing home delicious peanut butter chocolate for she knows i cannot resist it. i have been pigging out on them for a week straight and i've gained unwanted body mass ):

oh and..i saw kevin today. ;___; <3 what a pretty boy. hes so badass walking in the rain with his leather jacket. he has a facebook..i might get one just for the hell of it, to add him. asdasdasdfas
---
:: 2007 9 September :: 1.30 am
:: Mood: creative
:: Music: When God Was Sober// Terror Syndrome
love this song ;_;
i've decided that woojay will be my sketchblog, nothing in my life seems to be of interest now anyways. and if such news come about they will be friends only 8D.

my teacher says my lines suck and are too sketchy, for lack of a better word. and i should calm them down, especially in the program that i'm in. gulp. :/ guess i better practice. shit.

dumpage numero uno.
Read more..
---
:: 2007 7 September :: 7.30 pm
:: Mood: creative
:: Music: When God Was Sober// Terror Syndrome
lol @ my offline friends. they all suck. period.

edit
feeling a bit better. got to releash a portion of my anger at jenny over the phone = little self esteem boost. anyway.
my technical drawing teacher and also chairman of Ill. and Design sends us emails with job opportunities, real life drawing exercises/courses and the like and i'm just blown away by these illustrations: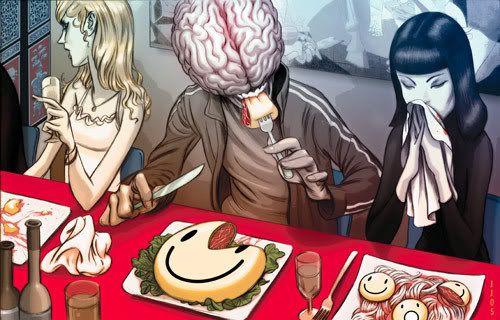 TIMOTHY LEONG, CHRISTIN JURGENSEN, ELKE KRUGER AND ANDREAS SCHOMBERG ARE GODS. go and feast upon their lovely illustrations. ;_; they are my new inspiration. and oh boy do i need it.

linkage:
http://www.jamesjean.com/illustrations/MHtable1.html

EDIT#2:
REMINDER TO SELF: Go to comic store tomorrow and pick up Sex Ed, Crowdsourcing and Process Recess 2 PRONTO. ]: ouf i need another job.
---
:: 2007 27 August :: 9.27 am
:: Mood: pissed off

is anyone else having problems with msn or is it, like always, me?
>______>
---
:: 2007 24 July :: 12.40 am
:: Mood: energetic
:: Music: The Crusade// Trivium
dsfssdggdgg
Edit
oh man
oh man
oh man
i..go it.
training starts tomorrow.
omigod.

ATTRACT POSITIVE VIBES, YES?
PHONE CALLS ARE A GOOD THING.
PHONE CALLS ARE AN AMAZING THING.
I WILL GET A PHONE CALL.
I WILL GET A PHONE CALL.

you know, i over think things.
im just gonna play pterattack til i puke blood. ):
---
:: 2007 21 June :: 1.06 am
:: Mood: pissed off
:: Music: .hack//G.U. osts..still :D~
HELP GUYS!!!
D:!

click here! :D

Edit
ok re-thought my cosplay.
jenny and i went to fabricville today to check out what we need for Sakubo. and it's pretty much doable...cept the shoes.
ok so
-Sakubo
-Tri-Edge
-Alkaid

:D YEEEEEEEEEE

edit 2
fuck k great. lauren wants AISHA (a girl) to be YATA.
Read more..
no. just. no.
great. this is going to fucking screw up. i just know it.
first aisha knows fuck all bout .hack. let alone anime.
im sure she wont want to do it.
lauren's even getting MARIA to do OVAN.
no.
if it comes to that they can cosplay .hack by themselves. i'll be off with kitu, alex and jenny and not with them. too much to ask right. u__u