| | |
| --- | --- |
| | May I cut in? |
---
:: 2006 3 November :: 3.33 pm

So we made it to the library today :-)

Caleb is doing so well. He's sleeping right now though. I thought I'd post some more pictures. Sorry the other ones were so big. Actually, I'm running out of time so some pics might still be huge. oops.

This is right after delivery.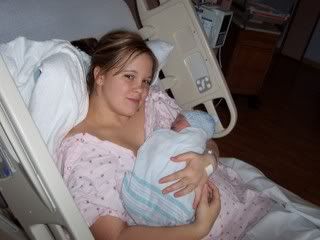 This is with Daddy



I think he looks like a little jailbird. He's a week old in this picture.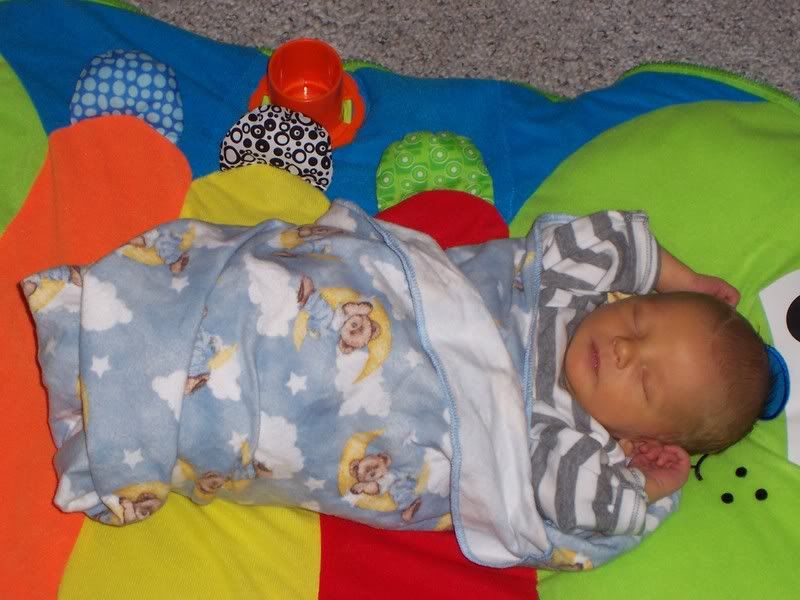 ---
:: 2006 30 October :: 9.40 pm

Thanks everybody! Just wanted to post some pictures and get into the gross details. hahaha.

So Tuesday night we went to the Childbirth class we were supposed to make up a few weeks before, and we're like "Uh, we're actually in early labor right now." And so the instructor told us that we had probably 24 hours. And she was right. Wednesday we went a walk and went shopping for some last minute stuff. Then around 11pm while Charlie was on the phone with his mom, asking what it was like when her water broke, mine broke. So we went to the hospital and I started having awful back labor but they couldn't give me anything for a while. Then the stadol. That stuff works. So we tried to sleep a little. Thursday morning I was in the pushing stage and Charlie says between having some of the contractions that actually push the baby out, I said "And now we play the waiting game!" hahaha. So it hurt. A lot. I had 2 episiotomies, and vacuum extraction because he was in the posterior position. She actually reached her hands in to turn him, and he turned back around. So we had to do it. And it hurt. And I am horribly horribly bruised. But he's here! We were at the hospital until Saturday afternoon. He has some jaundice so we're trying to get rid of it. I haven't slept basically since Tuesday.

Here are the pictures!

Here's Charlie and I after labor: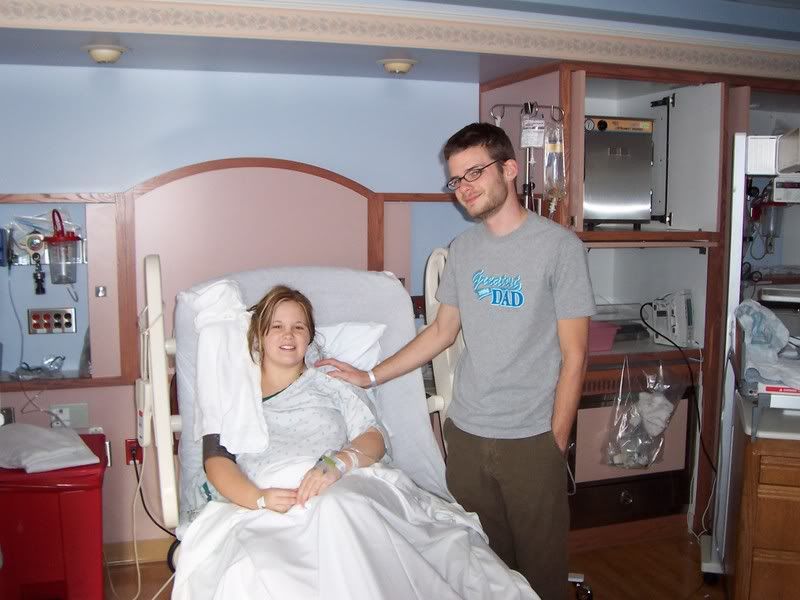 Here's Caleb on his wormy play-mat, he has a billy blanket for his jaundice that's why he's glowing: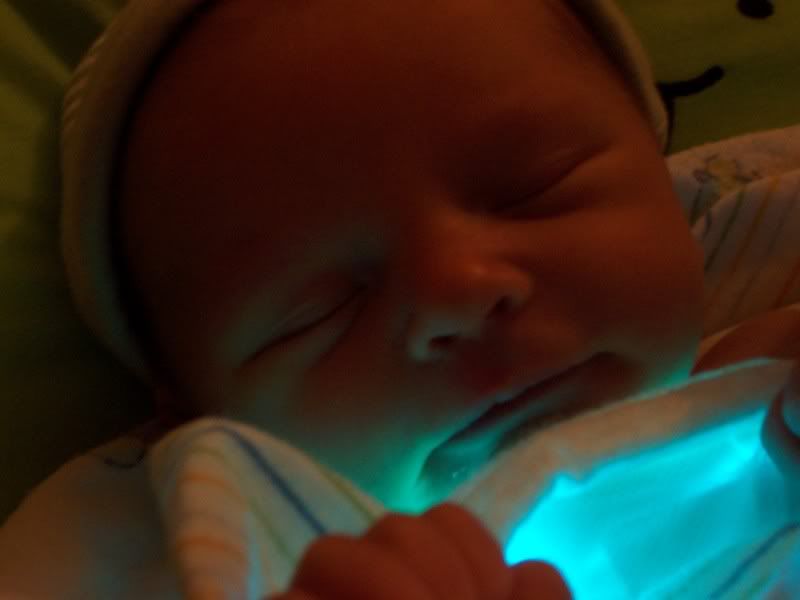 He likes to sleep with his arms above his head all stretched out, it's so cute!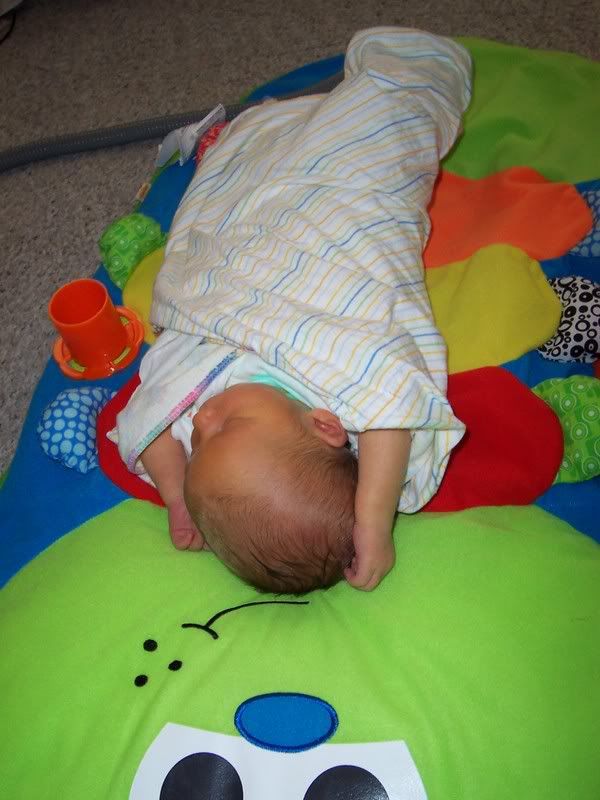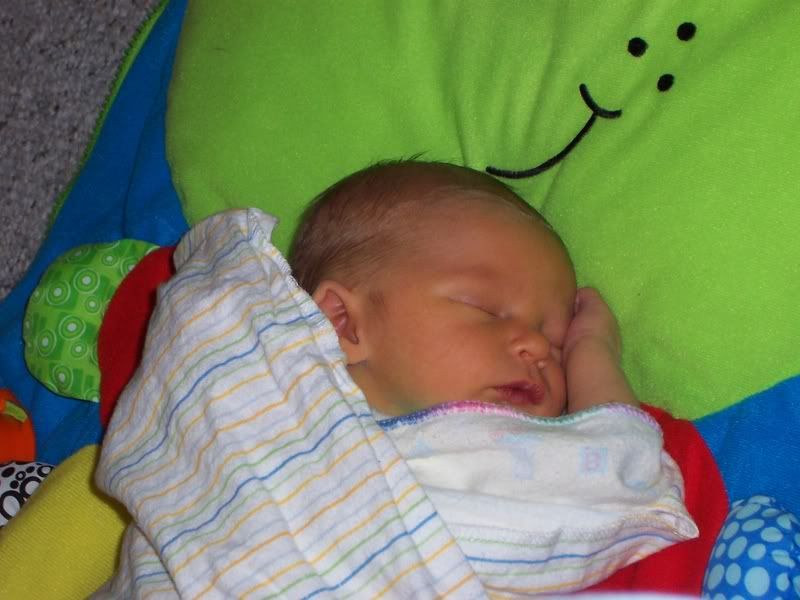 ---
:: 2006 27 October :: 3.30 pm

Caleb James is here! He is a beautifu little boy and we love him so extremely much! I'm still at the hospital trying to walk around and stuff so I figured I would let everyone know.

He was born Oct. 26, 12:07 pm, and he weighed 6 lbs. 10 oz. He is 19 inches long and has beautiful blue eyes. And we think maybe auburn hair. So it was a 12 hour labor but we've been at the hospital since Wednesday night. I had a TON of awful back labor so then on Thursday, well, I'll try to save the details, but it was the most painful thing I've ever done. But well worth it. I'll post some pictures when I get a chance. :-)
---
:: 2006 25 October :: 11.58 am

So....
Charlie and I are at Beaners right now :-)
I'm in early labor and have been since yesterday. We went to the doctor and I'm dilating and 70% effaced. We're so excited. Last night we had to make up one of our childbirth classes and it made me a little nervous knowing that everything would be happening in the next couple days or so. We're really happy.


Baby will be here either tonight or tomorrow!!!!!!!!!!!!!!!!!
---
:: 2006 23 October :: 5.28 pm

So. At Beaner's again. Drinking a large hot cocoa again. Yummmm.
This baby is coming, probably this week. I just organized all of the cupboards and cleaned the house yesterday. And I didn't get sick this morning like usual. At my last appt. the baby weighed about 7 lbs. 8-10 oz. So this will be a healthy baby :-) Hooray. Everything is pretty much set and I'm ready! I'm so excited.
---
:: 2006 13 October :: 5.02 pm

So the ultra-sound was today. Baby weighs about 6 lbs 14 oz. Whoooo. And I had the sonographer get a picture of the gender and then she put it in a sealed envelope so I could have it for the baby book. So now at home I have this envelope that seals the big question! And I can't open it now. Ahhhh! :-D
---
:: 2006 12 October :: 4.58 pm

Whoooo
I am so happy. Charlie and I are planning more dates now. Like tonight. After he gets home from work. And tomorrow. And a color-tour to Holland on Saturday. :-) I am extra extra excited.
And tomorrow we have an ultra-sound. They may take me early. Any time now...
---
:: 2006 26 September :: 6.57 pm

About a couple more weeks!
I am so exhausted. Today we had a doctor's appt. for 8 in Cedar. So we had to get up at 6:30 to get there in time. Then we went back to sleep once we got home. Then I had a Chiropractic appt. Then I slept. Now I'm at the library. The baby dropped even more and it's harder to sleep. But I'm so excited I can't wait. The sky was soooo pretty early this morning! The clouds looked feathered and the sky was orange, purple, pink and red. I want to start painting again. This weekend was my baby shower and it was a lot of fun. Lots of good food too! Next week is my birthday, it came really fast. Other than that lots of doc. appt. and such. Lots of sleeping. Blah.
---
:: 2006 22 September :: 3.12 pm

Rainy weather makes me exhausted.
It's really pretty out though.
I can't believe it's Friday already though. But that's a good thing I guess. Everyday is the same for me, lol. Considering I don't work or go to school. It's a seven-day weekend every week. The baby dropped lower and tomorrow is the baby shower so that's good. :-) I'm just really worried about having baby while dad is out in South Dakota w/grandpa. So things either have to happen before Oct. 11 or after Oct. 20. I'm still talking it over with baby. We're still hashing details...haha.
I love my family. Last night my mom and aunt came over and we soaked our feet and did pedicures/manicures and ordered Q'doba. And watched Peggy Sue Got Married. And stuff. And it was a lot of fun. Tonight I'm going to Home Depot to check out some grills. Then making Snickerdoodles for my daddio. Then going to my parents house . Then Charlie and I are going to have a scrabble battle. haha.
That's about it.
---
:: 2006 19 September :: 3.56 pm

the baby dropped the baby dropped the baby dropped
yayyyyyyyyyy
i can breathe again and eat yayyyyyy
i'm going to natural choice chiropractic tonight for a free massage yippee

---
:: 2006 18 September :: 4.13 pm

Ughhhhhh. I hurt soooo bad! So we did end up going to the hospital. Everything turned out to be fine. But this baby is ready to come out!!! I'm measuring 37 weeks and just ready. I am exhausted, nesting, sick, uncomfortable. Blahhhh. Hear my complaints! lol. :-) I've started going to some natural childbirth-type classes and a really cool chiropractic office. Tomorrow is another class and we get free massages! Yay! My baby shower is this saturday! Double-yay!
---
:: 2006 11 September :: 8.28 pm

So a trip to the hospital might be in order tonight!
---
:: 2006 7 September :: 7.08 pm

Had a doctors appt. last friday. I am now measuring 36 weeks. Who knows what's going to happen :-) I'm totally nesting now, too. We finally got everything moved in and around and put away and it feels great. It looks like a home now. And this weekend we're going to get more stuff for the nursery and I am planning on cleaning/washing everything. I had the intention of doing it but I've been soooooo exhausted.
Anyway, it feels weird school is starting up again already. I feel kind of sad because I miss all my cooking classes, but it would be way too stressful right now.

---
:: 2006 30 August :: 7.52 pm

My life in pictures!
So this is where we live...



Charlie and I got married in a really cute park on June 2nd...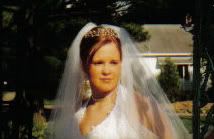 This is my wonderful husband...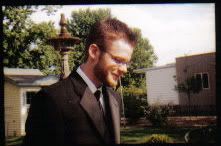 Me again...



We had a carriage ride...



And this is our little baby! :-)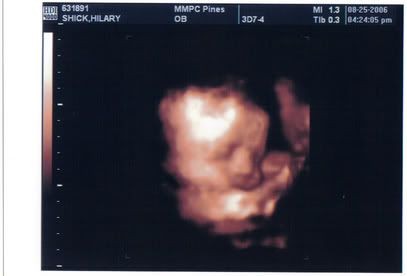 ---
:: 2006 25 August :: 10.52 pm

Saw baby today :-) He/She has dark hair, a lot of it, and a cuuuuute face. We had a 3-d ultrasound done as well, and got some adorable pics of the face. Baby was smiling again in these ultrasounds, at least it really really looks like it, even the nurse said so.
My aunt and I had a ton of fun at dinner. Seriously, who spends $140 at an Outback? hahaha. :-) Everything has been going pretty well.