| | |
| --- | --- |
| | I'll love you like it's the last day of my life. |
---
:: 2006 11 January :: 6.54 pm

well, piss on it then.
---
:: 2006 11 January :: 3.32 pm

well, I am feeling like crap. I don't know why, I just am. I want to go home, and I'm stressing out about my work schedule, and my school schedule, and I don't know. I need to pay my car payment. And my weekend that I thought I was going to have, doesn't seem like it's going to happen. well shit.
---
:: 2006 10 January :: 2.13 am

ok, here they are, the very first pictures, even tho, most of you have already seen them, I just had to put them on here, mostly because it just gives me another chance to look at them! ahah!

oh, and sorry about how huge they are! I really am sorry! :)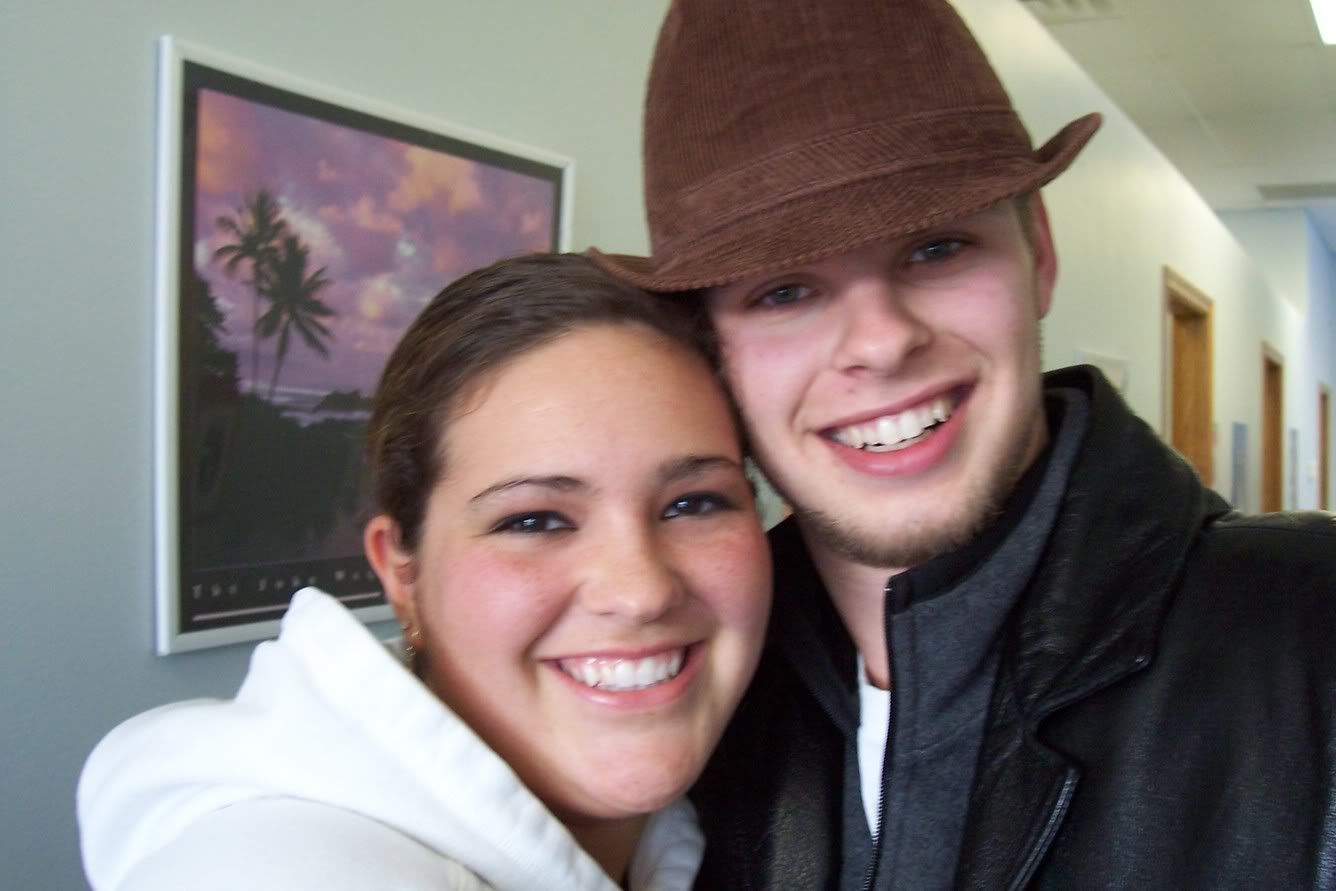 and for real, these are our very first pictures together! Before we were even...together! haha! ahh jerky!
---
:: 2006 9 January :: 8.04 pm

well...how can one aspect of your life be perfect, and another part be so unperfect? I am in a very....sad mood I guess. I don't know what to do. It's hard to even fake being happy right now.
---
:: 2006 7 January :: 9.13 pm

"All For You"

Finally I figured out
But it took a long, long time
But now there's a turnabout
Maybe 'cause I'm trying

There's been times, I'm so confused
All my roads, They lead to you
I just can't turn and walk away

It's hard to say what it is I see in you
Wonder if I'll always be with you
But words can't say, And I can't do
Enough to prove,
It's all for you

I thought I'd seen it all
'Cause it's been a long, long time
But then we'll trip and fall
Wondering if I'm blind
[Pre-chorus]
[Chorus]

Rain comes pouring down
Falling from blue skies
Words without a sound
Coming from your eyes

Finally I figured out
But it took a long, long time
But now there's a turnabout
Maybe cause I'm trying
[Pre-chorus]
[Chorus-Chorus]

It's hard to say
It's hard to say
It's all for you

---
:: 2006 7 January :: 12.14 am

hmmmmmmmmm...well....I got no punishment whatsoever.....maybe he DOES know I'm in college with a life..............
---
:: 2006 6 January :: 3.25 pm

well, I need to prepare myself for tonight, it's not going to be a good thing. I'm actually pretty scared that all good things are gonna end for a while.
---
:: 2006 5 January :: 12.56 am

well well well! Jake, you are proving to be more and more perfect everyday. and if I need to remind you I will! hehehe! Oh, and I was told that I better let you know that I like you alot, so, just let your new girlfrend know, and find out what she thinks about that! I'll beat her up if she tries anything! ahahaha!
---
:: 2006 4 January :: 6.43 pm

I am so happy. I can't even begin to describe it. Jake Mellema, I can't believe you would do that to me!! Make me so happy I mean!!! HAHAH! And I'm going to find out the secret threat don't you worry!!!! lol!

and just so it's out there.......if you haven't figured it out already, Jake is totally and completely my boyfriend!!! muah! and I couldn't be happier!
---
:: 2006 2 January :: 10.35 pm

I am the happiest person I have ever met!
---
:: 2006 2 January :: 5.50 pm

ya know, if what you're telling me, isn't what you mean, then I would rather you just get pissed and yell at me. And say what you mean, I don't like walking around on eggshells, and that's what I'm doing. So, fess up and yell or scream at me if that's what you gotta do, I'll sit there and take it from you.
---
:: 2006 1 January :: 11.18 pm

alright, so pretty much, I don't know what to do. Should I stay around, or go? I'm leaning towards staying, but when has that EVER worked for me? ummmm never. So I guess I'm not going to get my hopes up. There is already too much crap in this situation that I'm not comfortable with. I wish I was easier to get to know, well, I at least wish that I was able to open up easier. I'm so BOORING! It drives me crazy! I can't just be made vunerable. That is so dangerous! Ok, I'm done, I don't want to hurt. oooh, but guess what!!?!?! I already am in this too far! and it's gonna be awful either way. So I guess I'm screwed. eh! shit on me!


damn damn damn damn damn damn damn damn damn damn damn................................




seriously, BRAIN! SHUT UP!! I DON'T WANT YOUR HELP!
---
:: 2005 30 December :: 2.35 am

I'm about to go running in the other direction.
---
:: 2005 29 December :: 12.56 am

well! WHOOO! I'm excited! yesssssssss! I can hardly wait!
---
:: 2005 25 December :: 10.44 pm

My Christmas was......awesome!!! I got a bunch of wonderful things and talked to and seen a lot of wonderful people!! Jake even called me all the way from Florida!! I miss you and you need to come home in lightening fast speed! and I just got home from my grandmas where we ate food, and sang songs and laughed...a lot.. and played some games, they learned how to play Mafia!! ahah, my grandma and aunts should never play games with too many things going on at once, but I guess they made it a lot more entertaining to say the least!! ahah! Well, now my sister's are going to spend the night at my Aunt Becky's and I would be going to but I don't feel good. I'll be alright tho! Don't worry!!! ahah! I love you all!!!! night!
---
:: 2005 22 December :: 11.44 pm

It def. would be this song.

Your 2005 Song Is

Since You've Been Gone by Kelly Clarkson

"But since you've been gone
I can breathe for the first time
I'm so moving on"

In 2005, you moved on.
---
:: 2005 22 December :: 3.29 pm

I'm worried about what's going to happen. I mean, I shouldn't be worried, but I am, and I'm really bummed. It sucks, but I really don't think I'm allowed to care, it's like I just messed things up for me by getting involved. I hate history, and I hate everything!
---
:: 2005 20 December :: 11.39 pm

Sorry, I'm really really bored!

The Keys to Your Heart

You are attracted to those who have a split personality - cold as ice on the outside but hot as fire in the heart.

In love, you feel the most alive when your partner is patient and never willing to give up on you.

You'd like to your lover to think you are optimistic and happy.

You would be forced to break up with someone who was emotional, moody, and difficult to please.

Your ideal relationship is lasting. You want a relationship that looks to the future... one you can grow with.

Your risk of cheating is zero. You care about society and morality. You would never break a commitment.

You think of marriage something you've always wanted... though you haven't really thought about it.

In this moment, you think of love as something you thirst for. You'll do anything for love, but you won't fall for it easily.
Your Heart Is Blue

Love is a doing word for you. You know it's love when you treat each other well.
You are a giving lover, but you don't give too much. You expect something in return.

Your flirting style: Friendly

Your lucky first date: Lunch at an outdoor cafe

Your dream lover: Is both generous and selfish

What you bring to relationships: Loyalty
Your Kissing Purity Score: 57% Pure

For you, kissing isn't a casual thing

Lip to lip action makes your heart sing
Your Personality Profile

You are dreamy, peaceful, and young at heart.
Optimistic and caring, you tend to see the best in people.
You tend to be always smiling - and making others smile.

You are shy and intelligent... and a very hard worker.
You're also funny, but many people don't see your funny side.
Your subtle dry humor leaves your close friends in stitches.
You Have a Sanguine Temperament

You are an optimistic person who is easily content.
You enjoy casual, light tasks - never wanting to delve too deep into anything.
A bit fickle, it's easy for you to change plans or paths when presented with something better.

You enjoy all of the great things life has to offer - food, friends, and fun.
A great talker, you can keep the conversation going for hours.
You are optimistic and sure of your success. If you fail, you don't worry about it too much.

At your worst, you are vain. You are obsessed with your own attractiveness.
A horrible flirt, you tend to jump into love affairs and relationship drama easily.
You're very jealous - which just magnifies the craziness around you.
---
:: 2005 19 December :: 12.54 pm

So my morning..............royally sucked. I started it off by getting up late. And I had an exam, so you really shouldn't be late. But anyways, last week, my change oil light came on in my car, and I was like, that's weird, it's only been like 1,000 miles.......so I pull into Quick Lube, and they check and tell me that I'm TWO quarts LOW!!! seriously!!! my car only holds four and a half quarts!!!!! So that wasn't good, and I was like, well what the heck! and they looked under my car and said that some gasket was leaking.....and I'm like GRREEAAAt! So anyways, they top off my oil, and my winshield washer fluid too, which was nice of them! even tho it's their job, it still made me happier! SO I beeped my dad and told him about it, and made my day better by saying that it could be expensive! yea right! But anyways, that was last week and I've just been checking my oil and watching my temp. gauge, and all that. So a few days ago, my temp went up to like 3/4 of the way up, and I'm like woah! what's going on!!!? It's never gone that high before! So, because I am who I am, I start freaking out and shaking, and I feel the need to get off the high way as soon as possible and panic. And I beep my dad, and he told me to pretty much stop freakin out, and all that stuff that a dad can say to make you feel better. Oh, but before I beeped my dad, I cranked the heat in my car, and it went back down to normal. But I was still all nervous. So then back to today......I get up late, and fly outta the house and leave. and I'm thinking...ok, I might be on time. So I'm driving through town, and get to the point where my heat finally starts warming up my car good, and still nothing. SO I get to the highway, and I'm like what the heck!!! Why isn't my car getting warm! I mean the engine was warm, but there was no heat coming out! and I was FREEZING! seriously, I could see my breath! Then the damn temp. gauge started going up! and I couldn't even crank the heat up any higher cuz it was all the way up! I was like greeat, what do I do now? cuz I HAD to get to school. So anyways.....guess what I do!!! I beep my dad!!! WHOOO!! and he tells me to check my anti-freeze. So I do...and ooops, it's low. So as I'm going up Cresent to the parking ramp, my temp goes up into the red and lights come on and some bell starts dinging. and I'm pissed. and I just started praying to get me in the freakin parking ramp! So anyways, I get there, and turn off my car, and go and fail my exam. Ok, so after that, I go to my dad's work, and get his car keys, and go to Advance Auto Parts, or something like that, and buy two gallons of anti-freeze, and those little disposable filters. and then I went back to my dad's work, and begged him to let me take his car home. So now, I'm home all safe and sound, and my dad has the demon car at work in grand rapids! I hope nothing happens to it! He was going to put in the anti-freeze at his lunch. So that was like an hour ago. Oh yea, last night, when my dad was looking at it, he broke my radiator cap, so that might have something to do with it........I'm not sure tho, yea, I know stuff about cars, but not that much! So.....could the anti-freeze being low have anything to do with me not having heat...? I don't know, but to me, that sort of makes some sense. Someone with a little car knowledge...let me know what the heck is happening! I'm mad! grrr! and I have to drive my dad's car now. pft! At least I'm not shaking and freezing in that tho!
---
:: 2005 18 December :: 10.19 am

Your Birthdate: April 30

You have the type of personality that people either love or hate.
You're opinionated, dramatic, intense, and very outspoken.
And some people can't get enough of you - they're totally addicted.
Others, well, they wish you were a little more reserved.

Your strength: Your flair

Your weakness: If you think it, you say it

Your power color: Scarlet red

Your power symbol: Inverted triangle

Your power month: March



a little more reserved? me? who thinks that?!!! lol