| | |
| --- | --- |
| | The Truth of Killing a Song Bird |
---
:: 2007 6 January :: 3.59 am
:: Mood: uncomfortable

4:05 am blues.
doors are shutting people sleep as i walk down down the street. is this what happieness brings? or is it something deep deep inside, know that i always mess up. Ruinning every evening, on a thoughtless second, i was just playing around. Thats the last time I follow you out after making you mad, "dont talk to me" I dont need this maybe next time ill just walk the away. I here footsteps; look around to caucth a glimps of your sillioete running towrds me. I all alone, and walking down the street.
---
:: 2006 29 April :: 10.14 pm
:: Music: Mewithoutyou-January 1979
bsc?
---
:: 2005 18 March :: 12.02 am
:: Music: Norma Jean- coffinspire
Cartoons they can write
Jessica Benzer is the single best thing to happen to my life!
---
:: 2005 10 March :: 8.45 pm
:: Music: Copeland-Brightest
Starting from strach and having almost everything in your life change, has been one the best things to happen.
Show update- For everyone who needs something to do on wednesday night do I have a show for you, We are playing with From a second story window, In the Moat, Flesh and Blood Robot. Its going to be hella cool FASSW puts on an amazing show, doors are at 530 we will going on first tickets are $8 or $10. here is our temp website http://theirwatchinggod.tripod.com/ it has a short vid and show dates on it. Our last show in pa was amazing best show to date their was 350-400 kids there and the were rocking out. And as for me lifes been great lately, Ive been working, hanging with girlfried, kinda going to school, making music and parting it up make ever bit of life fun and worth while. Well Im out,
---
:: 2005 3 March :: 6.06 pm
:: Music: Blood Brothers-Six Nightmares at the Pinball Maquerade
Its really intresting to think about how one little moment/event has really changed your life or what you do.
I think how much 1 e-mail has affected and changed my life in the past year.
---
:: 2005 22 February :: 3.27 pm
:: Music: From a Second story window- I tried vodoo once
Their Eyes Were Watching God
Here is a Little tewg update-
Shows:
March 3-5 OH, PA tour W/Skys Revolt
March 16 Ten bells W/ From a Second Story Window,The ACACIA STRAIN, INTO THE MOAT, AND THE RED DEATH. Doors 5:30 8$
March 26 Skelletones W/Grey Halo, Staleface, and Numb

Thanks to everyone who went to the shows last weekend either at the Kent or the After Math w/ Showbread. we should be putting up a new song on purevolume soon www.purevolume.com/theireyeswerewatchinggod

Peace
---
:: 2005 21 February :: 8.57 pm

this ones for you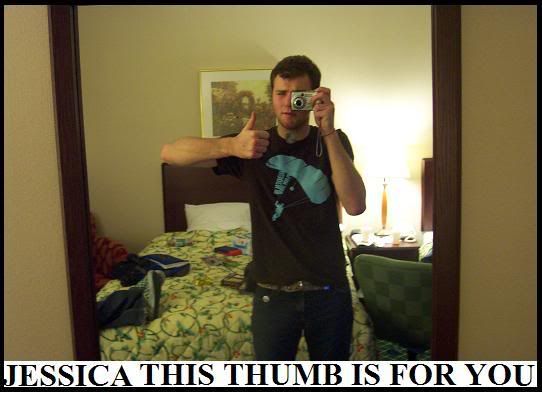 ---
:: 2005 19 February :: 3.34 pm
:: Mood: peaceful
:: Music: Copeland-Priceless
"I need you like the dragonfly's wings need the wind"
---
:: 2005 20 January :: 4.02 pm

HEllo everyone, If anyone is looking for something to do on friday my band has a free show @ hungery hearts Cafe. The show will start around 8 or 830, we will probley go on 9 930ish, it is located on Fulton between I think lane and just before johnball park zoo. We are playing with Look Ma, Ultra Ego, and some boy band. This cafe has no Idea what they are in for and we will probley never be able to play there again so it should be fun, if any one has qeustions about the show you can give me a call @ 1616 915 7426 if I dont awnser I might be in class or my phone is dead but if you leave me a message I will call you back
---
:: 2004 30 December :: 2.38 am
:: Music: Senses fail-buried a lie
like 50
A freaking 12 gauge ghauge
---
:: 2004 17 December :: 3.55 am

Jake and I went on top of D&W's roof
---
:: 2004 6 December :: 2.11 pm
:: Mood: excited
:: Music: Shoot First Now Draw
PA
This weekend was way amazing, we got back from PA sunday night, the show was one of the best shows I have been apart of, their was 300 kids there, they all thought we some national band(little did they know we have only been together for a month and it was our first show) there was a lot of hardcore dancing and people enjoyed it, I had no Idea how people would take our music, and we played with an amazing band from New York call "A love for Enemies" they rocked out hardcore. we will be playing with them again when they come to GR in the month or two. It was a fun road trip. Thanks for reading


---
:: 2004 3 December :: 12.40 pm
:: Music: MewithoutYou-Janary 1979
TEWwG
The new band has the first show this weekend in Pittsburg, PA it should be exiting, we leave tonight and comeback sunday. We finished up our recording and I pick up 150 copies today at 5 before we leave. We also have 2 different shits that are way hott,

new subject.......

As of sunday I no longer live the good old town of cedar springs, We got a band house in Byron Center, its hella tight. my adress is 83 perry st Byron Center, MI 49315 for any that want to vistit. well thats all for now check you all later.
---
:: 2004 17 November :: 2.10 pm
:: Mood: hopeful
:: Music: Unearth-endless
Forever December
Last night forever december had their unoffical last show. The band is still friends, Dusty Kyle and groerge are going to be still playing with each other, Im not sure if they are going to stay as forever december or not, the might just find a new drummer and bassist.

Randy and I have a new project called "There Eyes Where Watching God" we are very exicted about it. we are a 4 piece
Justin Wenz-Vocals
Spencer O-giutar
Randy-Bass, Vocals
me-Drums, vocals.
Starting Nov 29th we go into the studio and record a 3 song demo, we have a show Feb 5 @ skelletones.

I would like to thank the kids that were at the show, I had a lot of fun. I sorry more of you could have been there but I didnt know it was our last show until I got to the venue.
"well thats about all I have to say about that"
---
:: 2004 1 September :: 11.22 pm
:: Music: The Bled
School School
Today was the first day of class. So far so good. There is so many drummers, ones that kick the crap out of me, this means Im going to have to work harder this year is good I guess.
---
:: 2004 20 July :: 12.57 am

New Forever December stuff
Hey Forever December now has a new Make shift temp site www.geocities.com/foreverdecemberrock

and we also have some mp3's up on purevolume from our soon to be released ep

www.purevolume.com/foreverdecember

and as most of you probley already know Our tour for this summer was canceled because of my finger meeting the tire buffer, but look for a kent theater show sometime early september. thank you and good night
---
:: 2004 14 July :: 12.57 am

Pick a band and answer in song titles:
Band -the bled

1. Are you male or female?Nothing We Say Leaves This Room
2. Describe yourself: I Never Met Another Gemini
3. How do some people feel about you?: Sound of Sulfur
4. How do you feel about yourself?: Spitshine Sonata
5. Describe your girlfriend/boyfriend/interest:Red Wedding
6. Where would you rather be?:Sound of Sulfur
7. Describe what you want to be:You Know Who's Seatbelt
8. Describe how you want to live: Porcelain Hearts and Hammers for Teeth
9. Describe how you love:Get Up You Son of a B****, Cause Mickey Loves Ya
10. Share a few words of wisdom:
We Are the Industry



---
:: 2004 23 June :: 1.57 am
:: Music: Clearly Blind
Call for Help
With school being out its a lot harder to promote and crap so if you could help me get the word out about the show saturday in any way possible that would be hella sweet. Some of you have been helping by sending out e-mails and I can thank you enuff, here is the e-mail
Concert @ The Kent Theatre
Located @ 8 N. Main St. in Cedar Springs

Saturday, June 26th, 2004
6:30pm (Doors open 1/2 hour before the show starts)

Tickets are each $5 Dollars @ the Door

4 Bands Performing:
Forever December, Last Tuesday, Below Radar, & Detriomphe


Come and Support the Kent Theatre so we can finally get it open!
Pass this on to your friends!

thank you so much for your support

---
:: 2004 21 June :: 2.59 am
:: Music: Forever December-Perfection Of Repitision
THe Kent Theater
Hello Ever One. I just reminding everyone about the show next weekend at the Kent.
Below Radar has been added. The show will start around 630 on saturday june 26. The band line up will be DeTriomphe(Chicago) Last Tuesday(Penn) Below Radar(Chicago) Forever December(Grand Rapids). It would be sweet to see everyone there, so tell everyone you know. It should be a good fun show, and look for a crazy dual rendition an awesome song,
---
:: 2004 12 June :: 2.23 pm
:: Music: Taking back sunday
Cedar Point-+
Im off to cedar point with my family it should be fun. Bruce Audery Dave, mom and I all in one car.
In orther news should be able expect the Forever December Demo to be ready for the show on the 26th if all goes right. the 17-20 we will be in indiana recording. the next two weeks will be busy and the last few weeks have been crazy. Hopefully I will have some more free time in 2 weeks.
---
:: 2004 10 June :: 4.18 pm

Upcoming Forever December shows.

Friday June 11- muskegon at some church
Saturday June 19- st chris fiesta, illinois
Thursday June 24- Grand Rapids at The end of the world cafe(skelletones)
Saturday June 26-Cedar Springs at The Kent theater w/ Last Tuesday and tba
Sunday June 27- K-zoo chets house day show
Sunday June 27-K-zoo at Club Soda w/Last Tuesday
July 5 or 6 some where around here Robby Stock
July 20-The End of the world Cafe
July 23 Bloomington IN w/ Below Radar
july 24 Louisville KY w/ Below Radar
july 25 Evansville IN w/ Below Radar
july 26 Nashville TN w/ Below Radar, Mayfield
july 27 Cordova TN @ Skatepark of Memphis w/ Below Radar
july 28 Little Rock AR @ Blank Generation w/ Below Radar, Richmond Bread Riot
july 28 St. Louis MO w/ Below Radar
july 29 Springfield IL w/ Below Radar
july 31 Machesney Pk IL @ Frontline w/ Below Radar,The Attra Machine, Day Reckoning, Leviathan
Aug 1 Baltimore, Maryland w/ Last Tuesday


---
:: 2004 10 June :: 1.52 am
:: Music: brand new-the boy who blocked his own shot
As I look on my friend page it seems ever on has pathetic entrys so here is mine
Im a loser and feel bad because I dont want to play games, Im not ready(scared to find out what I want to hear), I have too many things to clear up, it felt right more than anything else has in a long time. I dont think most people really have a clue but then again maybe they do.

---
:: 2004 30 May :: 12.13 am
:: Music: 11 minutes away
Stole shrek from BK

R
Radiant
O
Overwhelming
B
Bubbly
E
Enchanting
R
Raw
T
Twisted
G
Glitzy
I
Important
D
Delightful
E
Extreme
O
Outrageous
N
New
C
Cute
A
Accurate
R
Respectable
L
Luxurious
S
Square
T
Tame
R
Rounded
O
Outrageous
M
Magical
I
Intense
V
Virtuous

Name Acronym Generator
From Go-Quiz.com

---
:: 2004 29 May :: 1.47 am

Run at night milk cows in the day free press rule and so do you.
by Robert Gideon Carlstrom IV

I will be signing after the tomorrow see me I will hook you up
---
:: 2004 26 May :: 1.04 am
:: Music: Clearly Blind-ghetto
Im 19

---
:: 2004 24 May :: 3.35 am

we are back from chicago. First tour out we have a crazy mad amonts of fun, met cool people, had some run ins with the cops, lots of fireworks and music.
---
:: 2004 18 May :: 12.45 am
:: Mood: Chill
:: Music: brand new-good to know if I ever needed attention all I would have to do is die
have me on my best shoot my on my worst
Two day and Forever December is off to chicago 4 awesome days of playing music in chicago. Its going to be fun to leave reality behind for a little whlie and play music and have fun with the compadrays. woot woot I hope to see you all monday at the Kent theater show. later peace out
---
:: 2004 16 May :: 12.19 am
:: Mood: mixed between bored and tired
:: Music: Dismemberment Plan-You are invited
I did nothing to night but sit on my computer and make this flyer I hope you enjoy

---
:: 2004 12 May :: 11.07 pm
:: Music: Glass Jaw-Mu Empire
I like one line updates
Day One of Working out: Check
---
:: 2004 11 May :: 3.40 am
:: Mood: Great
:: Music: OUTSMARTING SIMION-...and so ends the drought
I needed tonight. Thank you :)