| | |
| --- | --- |
| | May I cut in? |
---
:: 2014 5 May :: 8.52 pm
:: Mood: melancholy

Well hey there...
I can't believe I remembered my password. It's been a long time.

I'm really excited this is still here, even if I find most of my posts to be annoying. I'm still glad.

Life is... an everyday struggle, trying to keep your head above the water...
---
:: 2008 16 March :: 12.07 pm

everything was so new. it goes so fast.
---
:: 2008 11 March :: 11.19 pm

nope not true. just sayin.

oh, and...


i miss everyone!
---
:: 2007 8 November :: 1.12 am

Yep I still check this from time to time
Wow it's been a long time since I posted. Let's see....what's up with my life...
Caleb turned a year old on Oct. 26! Yay. He had his doctor appt on Tuesday. Stats when he was born: 6 lb 10 oz, 19 in long.
Stats when he was a year old: 22 lb, 32 in long

He is soooooo tall! Seriously, he's in the 97% ! He's 97% taller than all other 1 year olds! The doctor said with his height he's the size of a normal 17-month old. But his weight is just normal.

Carazy. This year has gone so fast. I am in my 3rd year at GRCC still no sign of graduating anytime soon. ha. Still cookin up good things all the time. Not working right now, just a stay at home mommy. Charlie and I are doing great. We're living in Wyoming right now, but we might be moving to Traverse City in the next couple years. It's sad I don't really have much to write about after all this time. Except Caleb, he's wonderful.
He's brought so much to my life, I love him so much.

Anywho I need my beauty sleep, HA! Nah, I have a date in the morning with a little boy to watch Clifford cartoons!
---
:: 2007 3 April :: 5.10 pm


Hilary Shick:





Hilary Miller:


---
:: 2007 12 March :: 6.34 pm

Spring! YAY!
Caleb and I took a long walk outside today. And I went to the store and bought a bunch of seeds and stuff to plant. And some birdseed. And we're going to buy some paint to paint with. haha. Wow I just kind of got out of the lazy winter mood all in one weekend. Yesterday Charlie and I cleaned the house like crazy. I love spring!
---
:: 2007 23 February :: 5.09 pm

I'm just having a really good day.
Caleb is one of my biggest joys. Every day I look at him and think about how lucky I am. He is so much fun. I love watching him learn. He's smiling and laughing and creeping around, trying to roll over. The other night I put him to bed, head to the left, feet on the right. Charlie got up with him in the morning and there he was, smiling, feet on the left, head on the right. It makes me smile everytime I think about it. He's the sweetest baby I've ever seen. I just can't believe how much I love him. I knew I'd love him, but I can't believe how much. And I love Charlie. We're having so much fun together. This is so great. I love our family. Oh my gosh I love our family. I love where we live, I love my son, I love my husband, I love my friends, I love that school is almost over, I love my family of course.


Okay, sorry that was so full of love, not my typical entry, lol. Hormones? Possibly.
---
:: 2007 1 February :: 6.15 pm

Totally.
Totally didn't go to class today. Totally no regrets about that. Totally wearin my pjs all day. Totally watching Grey's tonight. Totally lots o snow outside. Totally...
---
:: 2007 24 January :: 4.22 pm

Caleb is rockin the camera

---
:: 2007 24 January :: 9.10 am

Well it's kind of been a while. It's so hard to get up at 6:30 every morning. I am not used to this yet. Definitely not getting enough sleep. School is going well. Caleb is doing very well. He was weighed yesterday by the nurse and he weighs a whopping 12 lbs. 10 oz. now. He's in the 50% percentile. And he's 24 inches long, he's in the 75% percentile. I think he's going to be very tall. He's just a happy little boy, always smiling and laughing and cooing. He talks so much. And he's a good cuddler.
Other than that things have been good. I'm going to go buy an elliptical in a couple days, I am so excited. I've lost 10 pounds in a few weeks. yay.
---
:: 2007 11 January :: 9.01 am

Sooo... Back at school. Early. I got up at 6:30 this morning! And my first class was only a half hour long. And my second class doesn't start until 10:30. And I'm excited about pottery tonight with Becca!
In other news...

Caleb is 11 weeks old today, where does the time go?
And....
He started sucking his thumb! It's so adorable! He's gotten really good at it overnight. Yesterday he tried and tried and then overnight he got the hang of it. This morning on the monitor I heard "smack smack smack" and I knew exactly what he was doing and it made me smile. :-)


---
:: 2006 11 December :: 2.38 pm

Yesterday we took Caleb to get his portraits done! That was fun. They turned out really cute. Oh, I found out what Charlie got me for Christmas! We're going to Grand Beach Resort in Traverse City (where we went on our honeymoon) for New Years Eve. It's so pretty up there! Caleb got weighed the other day, he is now about 10 lbs. 5 oz. and 21 3/4 in. long! Okay, here are the pics: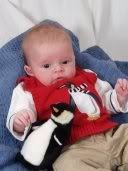 This one is going in our Christmas cards: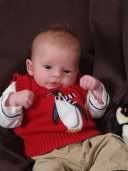 ---
:: 2006 5 December :: 12.24 pm

Whoa I am soooo obsessed with Grey's Anatomy!

Caleb is doing so well, he's like WAYYYYYYYYYYYY smart :-)
And strong.
And cute.

I'll have to put up some more pics. He's 6 wks old on Thursday!
---
:: 2006 25 November :: 12.25 pm

I can't believe how fast time flies! Caleb will be a month old on Sunday.

The crappy news is we both have colds. :-( poor little guy.
---
:: 2006 9 November :: 1.57 pm

I can't believe Caleb is two weeks old today. It seems like everything happened just yesterday. He's doing so well. His jaundice is all gone now so we don't have to keep going to the hospital every single day. He's sleeping right now. His hair is getting longer and it's sticking up really cute. I had no idea how expensive it is to have a baby these days. The hospital bill just came and luckily the insurance covered all of it. All $6,300 of it! I guess just to be in the hospital was $849 a day. And the delivery room was almost $3000. I got the suite though, so that might've had something to do with it. haha. Today we're going to the mall. My mom took us yesterday and we got him a TON of clothes. Old Navy was having a huge sale. You can't beat $0.98 shirts and pants and such. And they're cute. And we got him these cute little boy boots at Gap. And painter jeans. Okay, now he just needs to grow into them. Alright, I was excited about it, but it's probably just boring ol stuff. :-) He's picking his head up a lot now.

Oh, I signed up for a class, all the culinary ones are filled right now. But I'm taking pottery class with Becca! :-)