| | |
| --- | --- |
| | Once Upon A Dream |
---
:: 2006 20 September :: 10.43 am

Hey! Check out my new video that I made - I'm so proud of myself! BTW Snow White wtf??


http://www.onetruemedia.com/shared?p=13550ceaeabe0a73dff376&skin_id=0&utm_source=otm&utm_medium=text_url
---
:: 2005 5 July :: 6.20 pm

I've been wanting to post these things for awhile.

Mandi: Tell me something about the romantic life you want to live with me.
Youssef: Amera, Romance isn't something you say, it's something you do. Wait and you will see.
M: But I want to hear about it now.
Y: You want me to tell you how I want to walk in the streets of Venice holding your hand? And that I want to buy you a rose and give it to you on my knees, and kiss your hand? You want to know that I want to stand in a lot of people and tell them as loud as I can "I LOVE AMERA!!!!" Is that what you want to know about?
M: Yes. Thank you it is.
Y: I want to do a lot more than that.....

Y: You know that when I see you, it's like a painkiller. I hurt all day when you're away and as soon as I see you again it goes away




---
:: 2005 5 July :: 6.05 pm
:: Music: Enya/ Enigma - Return to Innocence
I'm here I swear!
So for anyone who may have thought that I've fallen off the face of the earth - I haven't. I've been pretty busy lately taking classes everyday and working 20 some hours a week. It's enough let's just say that. Well awhile ago I wrote about writing my final papers for this past semester and learning more about Islam. Well it's been quite a learning experience. I've found that the most difficult thing for me has been seperating what I'm reading and what Youssef has been telling me with what I've been "brainwashed" to believe forever. And questioning which is right? What do I, Amanda Ponzio, believe to be true? What makes sense? Is there one way that's right?? One day last week I was reading about Islam and there was a thunderstorm - I hate storms. So I couldn't sleep so I just kept reading and highlighting things that were interesting to me. I was getting pretty freaked out about the storm and I suddenly felt this really calm feeling, that I didn't need to be worried about what was happening outside. What that means I am not totally sure but I made the decision to convert to Islam. *BIG sigh* I am going to do it when I'm in Morocco. What I have read I like, but I feel this huge void because I don't know Arabic, I don't know how to pray, etc. etc. but I will learn. I really like the ritual that goes with it, and the connectedness - not like in Christianity where there is always an intermediary. Another thing that I'm doing when I'm there is that Youssef and I are going to have an Islamic wedding. We can't get married legally yet because we won't get his visa if we do. But we want to get married in our eyes and in the eyes of God. The paper means nothing to me really, I just want to be his wife. I want to make that commitment to each other and mean it. 29 more days until we leave - I just keep thinking of the 41 days we'll get to spend together and know that it's just days. Everything will be ok. Inshallah.
---
:: 2005 5 May :: 10.43 am
:: Music: Il Divo
Oh the love I feel
Feelings

Prima c'eri, ora no
Prima amavi ogni mio respiro
Spiegami di come I brividi ora sono
Le spine, di un amore alla fine

Mi baciavi, ora no
Mi parlavi fino a tarda notte
Tra di noi c'era tutto ora niente
Feelings, sto parlando di feelings

Dove si va se non c'è
Feelings
Come si far per tenerlo con sè
Dimmi se, dimmi che forse credere si può
Oh feelings dove si va se non c'è

Èun dolore che orami
Tu lo sai, è per noi una lama gelida
Sorridevo, ora piango
Oh feelings, sto parlando di feelings

Dove si va se non c'è
Feelings
Come si far per tenerlo con sè
Dimmi se, dimmi che forse credere si può
Oh feelings dove si va se non c'è

Persi nella scia
Di una storia che va via
Dietro gli alberi di quest' alba fragile

Dove si va se non c'è
Feelings
Come si far per tenerlo con sè
Dimmi se, dimmi che forse credere si può
Oh feelings dove si va se non c'è

Dove si va se non c'è

Ti Amerò

La notte scivola sul mondo
Che si addormenterà
E la luna vestirà d'argento
Il mare e le città
E tu mi mancherai
Più ancora
Quanto non lo sai
Continuerò a credere che
Siamo un'anima, io e te
E ti amerò comunque, lo so
Anche se non sei con me
Io ti amerò
Ti porterò con me nel sole
Nei sogni che farò
Ruberò i colori del mattino
E un cielo limpido
Su cui dipingerò il tuo viso
E sorriderò
Continuerò a credere che
Siamo un'anima, io e te
E ti amerò comunque, lo so
Anche se non sei con me
Mi manchi più che mai stasera
Quanto non lo sai...

~Last night we fell asleep together on the computer, talking and watching each other. As I fell asleep I was murmuring something to him and he said to me, "Shhh shh baby, close your eyes and meet me in your dreams...."
---
:: 2005 3 May :: 9.15 am

Last night I was sitting in my SLA Theory class (Second Language Acquisition Theory) and I one of those moments came over me. I was just out of my body. I could just touch my hair and feel myself leaving my body. And all I wanted was him. I just wanted to be transported to where Youssef was. I could see him walking through the door into my classroom, and everyone was moving in slow motion except him. I stayed in my seat as he walked to me. My heart was pounding and I thought I was really trying to wake up because there was no way this could be happening. When he finally got to my desk at the back of the room he leaned over and kissed my cheek and said "come with me...." But I was frozen, I couldn't move. I inhaled deeply and could smell him all around me. He turned back to me, "Baby, come on..." When I didn't move he came back to me and took my hand, and then he picked me up in his arms. Everyone around me was in a blur as he carried me out of the room. And suddenly we were on a dusty Moroccan street. He was dressed all in white, and I had on a long red dress. My head was on his shoulder, as we entered a house through an entrance decorated with elaborate Arab arches. Inside, it was cool. He sat me down on a couch, and started to feed me, and kiss me and tell me how much he loved me. Tears started streaming down my face and he kissed them away, and reassured me that everything was alright now. He held my face in his hands and looked right in my eyes, with his chocolate brown eyes and pressed his lips to mine, further removing me from reality. His hands went through my hair and I heard. "You have 20 minutes left to describe your theory, and then present it to the class....." It really wasn't real...

---
:: 2005 29 April :: 10.49 am

I am writing two papers right now for the end of the semester. One is on Women in Islamic law and the other is about Uganda. Hardly connected one might say. But as I get into these I find myself asking questions, and especially because this whole religion question is central to my life right now. So let me draw some small connections. Uganda is a multi-religious nation, Muslim, Christian and some animism. There was a lot of fighting and controversey between the religions during colonial times. Ok, enough said you can start to get that. So the women in Islam part, let's just say I never really understood Islam. Which bothers me becuase I'm well educated and I should know more than the very, very basics. As I'm reading all these legal texts I'm starting to understand more (the Arabic words really threw me off). But I can see how the religion started, how it was changed social structure in Arabia, etc. Hmmm...wait it did something good?? Have we not, in this country, only known the negative things of Islam? How they beat women into submission and force them to cover themselves? I know that it happens and I don't agree with that but Islam also made positive changes at its beginning. Women became partners, not objects for sale. There's a lot more but it just got me questioning and wondering.

It also sparked a really interesting conversation with Youssef. I have been with him and his family and the level of devotion to their religion is just unbelievable to me. It's not a part of their life - it IS their life. Somehow the lack of ritual etc in the American way of life makes me sad. Now before you think I now believe we should turn fundamentalist and become a religious state just hold up. I like the seperations we have and the rights because I don't agree with all aspects of Islam. But this has be asking a lot of questions. Questions about me, about what I really beleive, about how my children will be raised etc. The fact is I am starting to see a lot of lines between Islam and Christianity (a lot of differences too).

I guess I'm just at this point where I'm questioning which way I want to go. As I said earlier after my first trip to Morocco, the first time I was in a mosque, the Hassan II mosque in Casablanca I felt a real holiness. It didn't have all the "things" that are in cathedrals or churches but it didn't need them. I've been in cathedrals and religious places all over the world but I never had the same feeling. So am I on the verge of conversion? I don't know, I really don't. I worry how my parents would react to such an announcement but I know that faith is something that is in a single person, not something that should be dictated to them. Where my path will lead I don't know....
---
:: 2005 22 April :: 10.09 am

Graduation
Today I applied to graduate college. Next May (2006) I will have completed my BA. Wow. Part of me is really looking forward to this but another part of me is really scared. What's next? What do I do? I think I have pretty much decided to either go to Law school or Grad school at least part time. And Danielle on a happy note --- I applied for grad school at MSU!! I might be a Spartan again!
---
:: 2005 6 April :: 11.57 am

I was going through this phase where I really felt like a mom. Not the super motivated, go get-em girl I am. Wow it really sucked let me tell you. For Anthropology (People of Africa..) we have a research proposal due today. And I feel better now that I have let my intelligent, non-mom side out. Oh there are no pbj smears on this paper, so dirty diapers.....this is pure, unadultrated thought.

My research paper will examine the role of the Islamic faith in the adoption of family law in Islamic nations. While not intended to cover all aspects, or all nations, I will give an overview of the basic tenets as prescribed in the Qu'ran and implemented throughout the Muslim world. More specifically I will focus on the new legislation that has been adopted in Morocco. As King Mohammad VI continues his reign as a moderate and progressive Islamic leader, Morocco has taken many steps to create a system that is fair to all parties; husband, wife and children. This paper will examine the text of the act in Morocco, how this is viewed in the world and problems that will be faced in implementing this law.
---
:: 2005 5 April :: 9.44 pm

Yea, that research proposal is getting far.....



Amanda Marie Ponzio's Aliases

Your movie star name: Cookies Pope


Your fashion designer name is Amanda Prague


Your socialite name is MeMe Marrakech


Your fly girl / guy name is A Pon


Your detective name is Monkey Niagara High


Your barfly name is Cookies Vodka Tonic


Your soap opera name is Marie River


Your rock star name is Dark Chocolate Plane


Your star wars name is Amatul Ponyou


Your punk rock band name is The Tired Pencil

Your Brain is 66.67% Female, 33.33% Male



Your brain leans female

You think with your heart, not your head

Sweet and considerate, you are a giver

But you're tough enough not to let anyone take advantage of you!
---
:: 2005 4 April :: 4.01 pm
:: Music: I Can Love You Like That
The trip in Words
Laurence you asked for some written commentary on Morocco so I have complied - I am sorry that it has taken me so long.

So on the 17th of March, my trip to Morocco began. I had to spend the entire day in class, and then work and THEN I drove 4 hours to Milwaukee (in the rain and snow) to spend a few hours of sleep at Kaprice's apartment. At 2am (like 3 hours of sleep after arriving) I got up, got dressed uber cute and left, to drive to O'Hare. It was pretty uneventful. I parked my car, rode the shuttle to the airport and sat for awhile until the flight boarded to New York - the flight left at 6am. I was already tired but I was so excited I think it was masked well. Once at La Guardia, I had to transfer to JFK - so I took my luggage. Ok side note about luggage. I was in Morocco for a total of 6 1/2 days and my suitcase was 2 times the size as it was the previous trip, when I was there for 2 weeks. How does that happen? I digress. So I get to JFK, probably around 11am. The desk for Royal Air Maroc doesn't open until 3pm, so I had to sit there with my luggage for 4 hours, it was ridiculous. My flight didn't leave until 6pm so it was a WHOLE LOT of waiting. Once I was checked in I just chilled for awhile more. Youssef's brother and sister -in-law then came to the airport to meet me. They live in New York, but Ahmed (Youssef's bro) had an interview with the immigration people for his green card in the morning so they couldn't come until later. (He got the green card!! yay!) I was nervous to meet them too, but we had a nice talk and I was glad that they didn't seem to hate me. One of Malika's (Youssef's sister in law) friends works for Air France (it is a codeshare with Royal Air Maroc and Delta, and so I met her too and she changed my seats so I didn't have to sit way in the back, but got a better seat - not first class but not economy (business class?) It was nice! Once I finally got on the plane around 5:30, I was so nervous, I hadn't eaten hardly anything all day and I just wanted to get there. But once on the plane I got really sick, with a migraine and everything. The lady sitting next to me was really nice though so I didn't feel so bad. I slept the entire 6 hours to Casablanca. When we were deboarding my heart was racing. I only had a little more than an hour between my flights so I ate something and BAM it was time to get on the flight to Marrakech. This flight was only a half hour, just up and down. So as soon as we took off down the runway I knew it was only minutes before I would see Youssef again. Sitting here and typing this, is making me relive all of the feelings and emotions I was going through. I have knots in my stomach right now and I'm not going anywhere! When we touched down it was a typical Moroccan airport, big sandy field, with some runways and a gorgeous airport, lined with palm trees and big red flags with green stars flying all over. If I could have run into the airport I would have, but I just walked really fast. As soon as I got inside my heart sank. There were lines and lines of people waiting to go through passport control. And only a few guys checking them. I had to sit in line for over an hour and the longer I sat there the more frustrated and anxious I became. But it was my turn, no problems and voila I was on my way. I scoured the carousels to find my bag FAST and flew out the doors to the lobby. And there he was! I dropped everything and wrapped my arms around him, and didn't let go for a few minutes. It was just perfect. I almost started to cry but I was too happy. We walked out hand in hand to the taxi, and I was just in a total state of euphoria. In the car he had flowers for me and as we drove to his house he just kept telling me how much he loved me and that it must be a dream that I was right there with him. We drove from the airport into the Kasbah (the area he lives in) and everything came back to me. I felt at home, like this was home. Our walk to his house was short and like the gentleman he is, he carried my bags. I can't describe what Moroccan houses are like, well at least houses in the Kasbah - it's decieving. They look like big blocks of buildings but there are seperate houses inside. So to get to his house you go through this little tunnel and then there is a door that opens into the house. Kasbah houses have courtyards in the middle, with a tree or two growing - they are open to the outside, and then there are rooms that go off of the courtyard. We had to kiss in the tunnel, because you can't see the street and the people in the house can't see. One thing that is hard/different for me is that affection in public is a huge no-no. So I had been there for a half hour and hadn't kissed him yet! But when we did it was just wonderful. Then we went inside, and everyone was there! So we all kissed. I don't know if Moroccans adopted this from the French or if it's just something they do. But everytime you meet, even like in the morning when you wake up you kiss once on one cheek and twice on the other. And when you leave you do the same thing. So I got lots of kisses. Then he brought me upstairs to his room so I could change and rest for a little while before breakfast. Mostly we just kissed a lot!
When we went back downstairs it was breakfast time. One of his sisters brought in a bowl of something that looked like oatmeal and these other fruit like things that I had never seen. I promised I wouldn't ask what anything was, I would just eat it. So I dug in. The watery oatmeal was actually harira - which I guess is a version of oatmeal, it was ok. And the fruit was dates. I had never eaten dates, in fact I considered them something odd and something an old person would find appealing, but damn they were good - in fact I have 2 bags of them in my cupboard right now. So I ate until I was full, and then 10 minutes later, the real meal came out. Honestly I can't remember what it was anymore but there was a lot of food and they just kept saying "coolie, coolie" "eat, eat" Where was I suppose to put all of this food?!?! Don't get me wrong I love it that my boyfriend encourages me to eat, unlike American guys who turn up their noses if you don't just pick at a salad. But seriously, I couldn't eat anymore. After we ate we sat around the living room with his nieces and nephews and watched TV and talked. Just spent time together. Later in the day we decided to go out, we walked around Marrakech a little, then we went home and took a nap.
Side comment: What I love about Moroccans:
In Morocco it is expected that you consume food in enormous portions and you do so several - like 5 times a day. Not eating is strange, and not eating big hearty meals full of bread is just weird. Naps. I don't need to explain much more. The climate is hot and people take naps in the middle of the day. Yes I love this. Everything is slower. People take their time, conversation is an integral part of the day. Everyone knows everyone in their neighborhood. At night everyone goes out, young people in groups and adults with their families. Maybe it is just for a walk, or to go shopping but the evenings are full of people. I think there are more people out at night than during the day, at least Moroccans. The days are chock full of tourists. Some of the reasons I love Morocco

Back to the story. So we're napping. And wake up. I am bugging Youssef about something and he says, "Wait I'll be right back" So he comes back and tells me to close my eyes. Hmm ok. And he takes my hand. Heart pounding This is it girls. He puts one ring on my finger and then.....another one?!?!? Oh yes indeed 2 rings for Mandi! Yessss! I open my eyes and POW, not only did he get them in the right size they are gorgeous. Exactly what I would like, just what I would pick out - I'm actually a little shocked and freaked out but what the hell who cares! He looks at me with his big brown eyes and says, "Amera I love you, I want you to be my wife." There is hugging and kissing and hugging and kissing and a little crying. Even though I knew it was coming I was still teary. It's like 6 or 7 and time for another meal, only to be followed by another one around 10-11. His sisters were all checking out my rings, telling him he did a good job choosing. Yea I was impressed too. Food time. We're talking BIG meals here. And they eat with their hands. It took me a really really long time to figure out how they pick up the food on the bread. But I think I'm pretty good at it now. After consuming 20 more pounds of food, we got dressed to go to the disco. Oh I love the clubs. But in 2 1/2 days I had slept oh 8 hours so I was dragging. But in the club all of the rules of the outside don't exist. So we can kiss and do whatever (well within limits) we want. We danced and kissed and had just a really good time. It was so cute too when we would see someone he knew. He introduced me as his fiance and would show them the rings. I laughed every time, but he was really proud of me and that made me feel good. That someone cares and loves me so much that he wants everyone to know. We went home around 2am, and he snuck upstairs to cuddle with me for a little while, but not too long or mom might find out!!!

Can't wait for the 2nd Day??
---
:: 2005 28 March :: 5.31 pm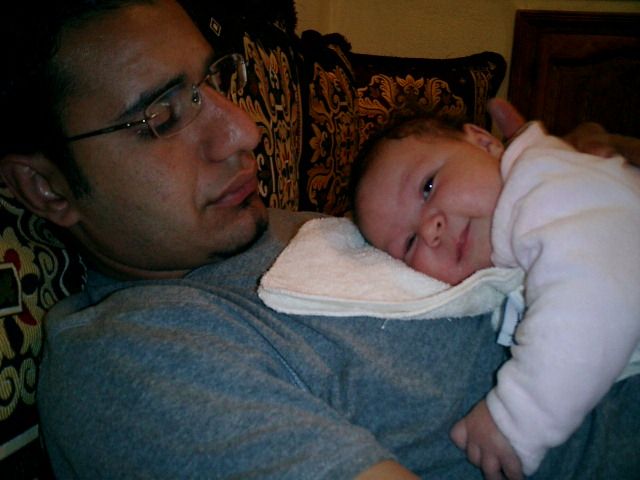 Youssef with his 1 month old niece Aya laying on his chest

Read more..
---
:: 2005 28 March :: 3.14 pm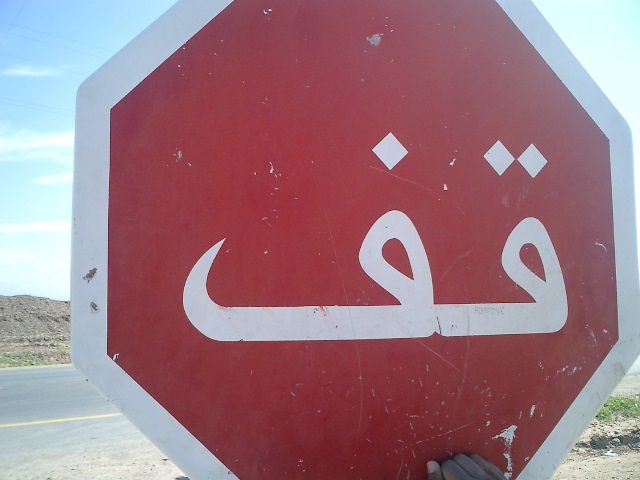 You are about to enter ........

Read more..




---
:: 2005 28 March :: 12.49 pm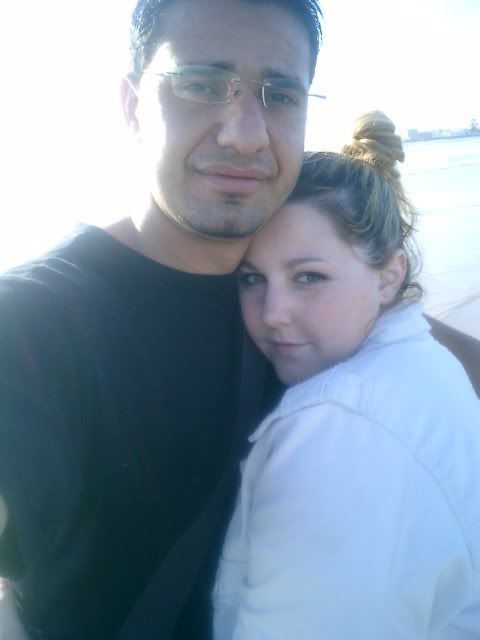 I'm engaged! You'll have to wait for more pictures...
---
:: 2005 14 March :: 12.42 pm

I feel like I have been AWOL for a long time now, but I am back. Not that anyone missed my rambling. Well, the past two weeks I have been busy with driving and driving and driving. My grandpa passed away early last week and so I was there all weekend. And the week before my sister and I drove home to see him. He wasn't suppose to live more than a few days from the first time we went (two weeks ago) but he survived a week in more or less a coma. The funeral was this weekend and it was sad but I am glad that he isn't suffering anymore.

On a happier note, tomorrow is Mikhail's first birthday!! It is hard to believe that he is already a year old - I really can't remember everything that has happened in the past year but he's still as cute as ever and growing everyday.

I have so much to finish in the second half of this semester. On Wednesday I have to have a literacy game finished for my class (that is also my job - it's confusing). I did my poli. sci midterm today, and so that took a lot of pressure off. I have to make a complete lesson plan and curriculm thing for my English methods class. I need to start soon because it's huge. I feel like I have been slacking off this whole semester - I just need to sit down and get my shit together. Wednesday my grandparents are taking Mikhail because he is staying with them while I am in Morocco, so hopefully Wednesday and Thursday I can get some stuff done before I leave. It is hard to believe that in four days I will be in Africa!!! And I can hug and kiss Youssef whenever I want (well almost whenever I guess). We are having our engagement party and I couldn't be more excited. I'll admit it's a bit nerve-wracking but it's what I want and I'm so happy. I put some new Mikhail pics on here too :)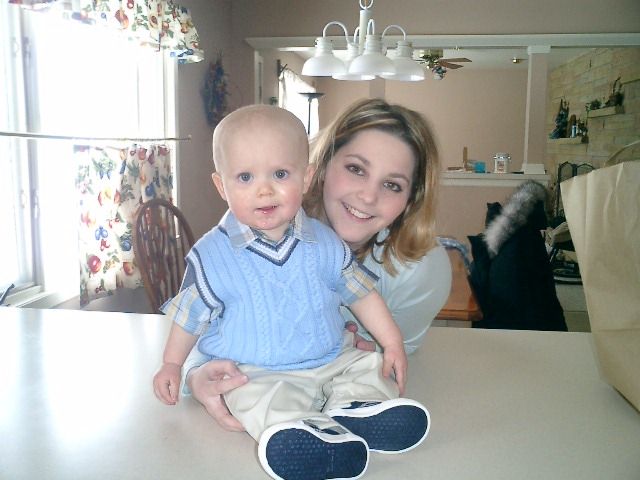 Mikhail and Mom - doesn't he look like the man you always wanted?? Hell if I can't find him - I'll make him!!


---
:: 2005 28 February :: 9.19 pm
:: Music: My Arabic Language CD
The Meaning
I could hear the rain coming down
Beating on the floor
As you shivered in bed
Longing for someone to keep you warm

"I wish I had the words to tell you
The feelings in my heart"
"You've said more than any other
Has ever had the courage to"

My nights are full of tossing
of turning
of dreamless, sleeplessness
Wishing I had somewhere to lie my head

Don't tell me it's not true
Don't tell me it's a lie
Don't tell me I'm imagining
Don't tell me not to cry

Because my eyes are only for you
My body and soul are yours
And all I ask of you
Is for you to love me too.